Description

Technical features

Guaranteed BPA-free

LCD control screen with tactile buttons

Includes 2 HEPA filters (to be changed every 6 months)
Video
Babymoov Turbo Pure sets a new standard in sterilisation with the use of a HEPA filter.
As a parent, babymoov understand that time is of the essence and so is the safety and health of your precious newborn baby. The Turbo Pure 3in1 sterilsing, drying and purified storage machine ensures the best possible cleaning and sterilising method with the use of a HEPA filter for plastic & glass baby bottles and accessories so that parents have peace of mind straight from birth.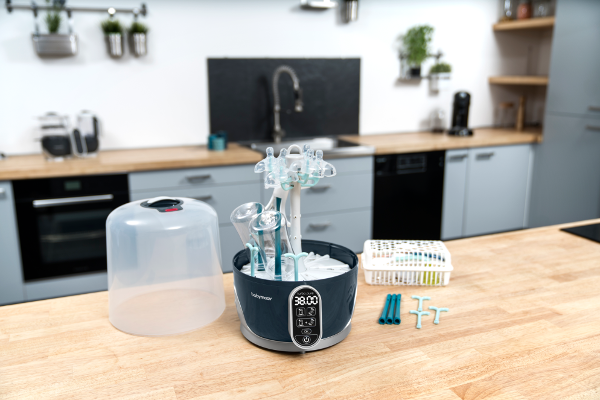 Before 6 months your baby's immune system and intestinal flora have not started to develop your little one is much more vulnerable to bacteria that can be found pretty much anywhere in the home.
The 3in1 Turbo Pure sterilises and dries plastic and glass baby bottles and accessories with a high performance HEPA filter to the core in just 38 mintues and stores them in a ultra hygenic and purified environment for up to 24 hours. Turbo Pure sterilises right to the core of baby bottles in just 8 minutes. The steam emitted by the Turbo Pure via the main tank itself and through the removable steam arms is at 95°C to eliminate even the most resistant bacteria (99%), and destroys stubborn odours and calcium build-ups from milk. The steam arms are removable, so that you can customise the internal space to fit more of your bottles and accessories in. You can add up to 6 baby bottles as well as a breast pump, teats and other accessories suitable for sterilising.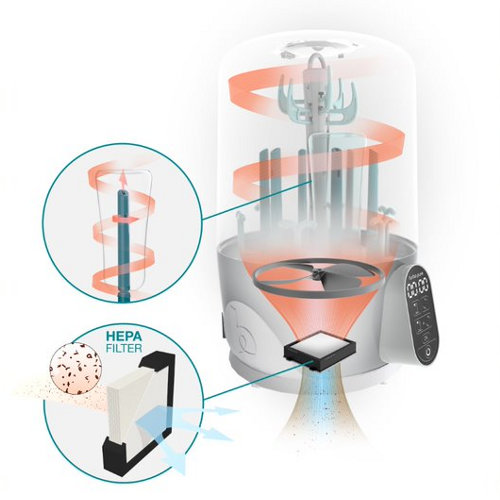 Hygenic Pure Drying Function
Turbo Pure is equipped with a unique 'Pure Drying' function (30, 45 or 60 mins) Hot air is forced deep into the bottle is purified from bacteria, dust mites and other allergens thanks to the addition of an HEPA filter. This is the safest, most hygienic way to dry your baby bottles, teats and other accessories after sterilisation. Any humidity and pollutants contained in the air are eliminated (99%). Your baby bottles are ready to use and retain all the benefits of sterilisation. The HEPA filter can be easily changed every 6 months and Turbo Pure comes with a spare filter.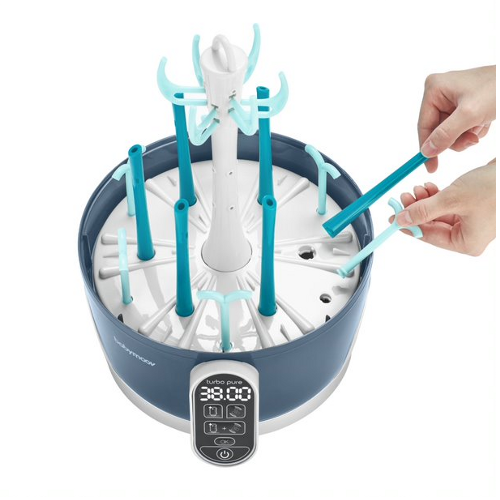 Why use an HEPA filter?
Hot air forced deep into bottles paired with an HEPA filter, eliminates at an extremely high rate of efficiency at least 99.97% of dust, pollen, mold, bacteria, and any airborne contaminants with a size of 0.3 microns.
Ideal!
Perfect for what we need quick sterilise and the dry setting is amazing!
Lovely steriliser and dryer!
Doesn't take too much space and it is drying nicely my dry hands are now much better!
Easy to use
A great devise fit streak using bottles, pumps, nipple shields. I find it works best when you use the individual sterilise and dry functions. Choose a longer dry option if the tray is full.
Great item
Brilliant having something that dries as well as sterilises. Great having dry bottles to use.
Do you actually descale your sterilisers?
People who are saying that it stopped working after a few weeks are you actually descaling your machines? As to run smoothly you need to descale at least once every 7-10 using vinegar, clean it and run a full cycle before properly using. I had mine used for a year before got broken, which is fair enough for constant use for a year but never had problems with mine, only showing a red dot when I was running late with descaling but problem was solved after I did it.