Description

Technical features
Material in contact with baby: 100% cotton


Cushion trimming: 100% polyester




Cover: 100% polyester

Padding: 100% polyester foam

Dimensions: 70 x 72 x 65 cm (height x width x depth)

Fixed height

Weight: 8 kg

Works with an adaptor (included) or 4 x D (LR20) batteries (not included)

Product includes 1 instruction manual + 1 adaptor with UK plug
Video


Swoon Motion ergonomic electric baby swing with two natural rocking modes and motion sensor
If, like many, your baby loves to be gently rocked to sleep in your arms, the Babymoov Swoon Motion electric baby swing is the adjustable, user-friendly solution for parents to settle their baby hands-free!
With multi-purpose, ergonomic features, the Swoon Motion 360° baby swing is highly intuitive to your baby's sleep. Its motion sensor triggers your chosen swing setting when it detects your baby's movement or imminent awakening. Choose from two natural rocking modes, 'left to right' or 'back and forth'. Swoon Motion 360° baby swing rocks your baby as if they were in your arms, with five different gentle speed options.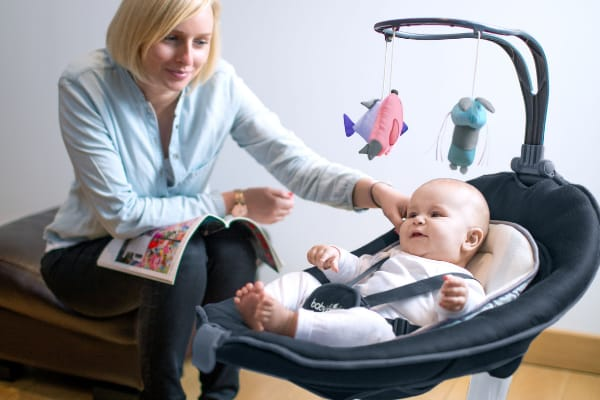 The perfect rocking baby swing from birth
Designed as a newborn baby swing chair, the Swoon Motion electric baby rocker has a built-in cushioned insert to mimic the cocoon effect your baby is used to from their time in the womb. As your baby grows bigger, the newborn insert is removable and machine-washable at 30°C, as is the seat cover.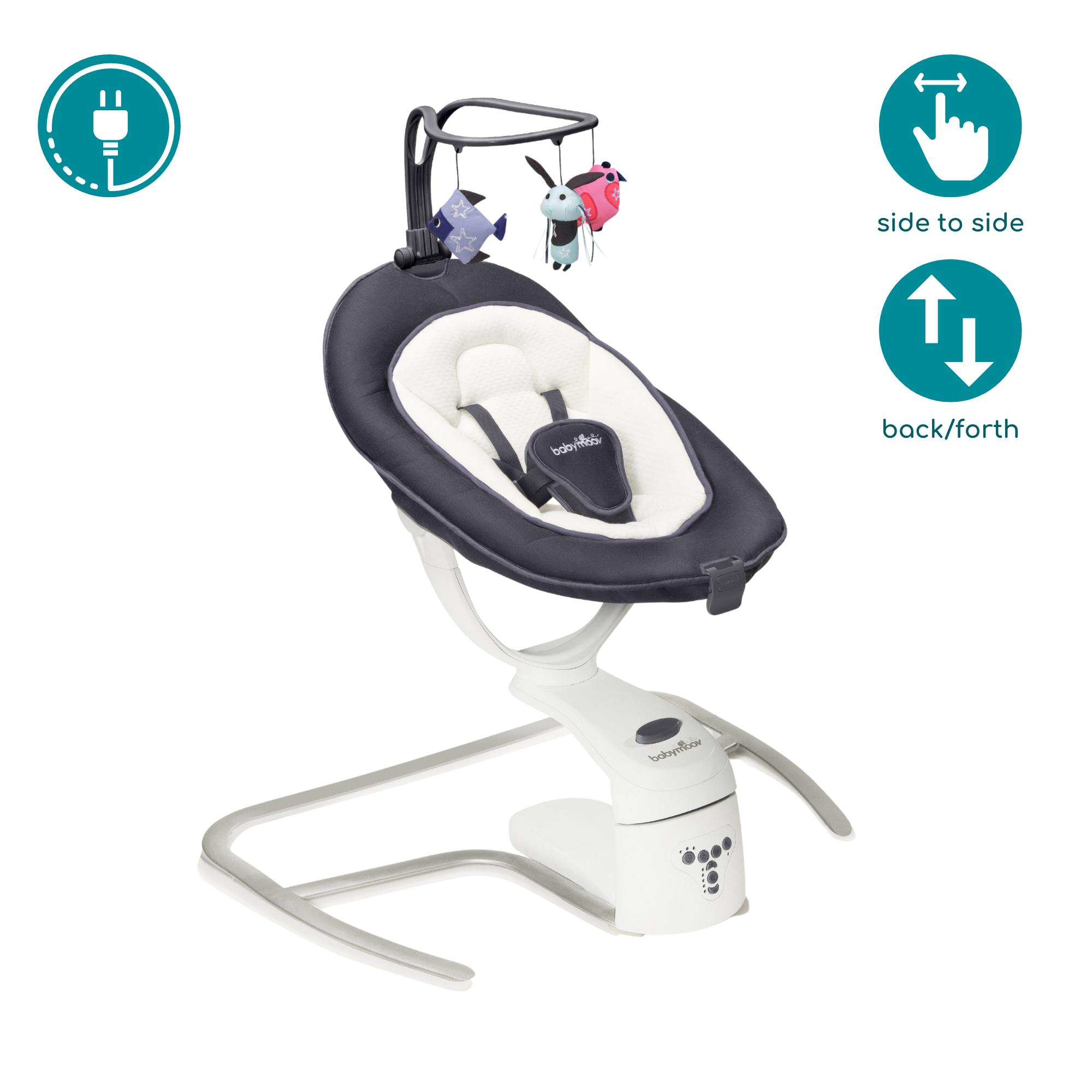 Restful sleep in an electric baby swing rocker
The seat itself has three reclining positions – for sleep, rest, and family interaction. Thanks to its adjustable five-point safety harness, your baby can sit comfortably and securely in the electric baby swing. The Swoon Motion 360° baby swing has pre-programmed swing cycles of 10, 20 and 30 minutes. There is also a motion detector, which will restart the same cycle if the swing detects any movement. This feature is perfect for babies who struggle to stay settled.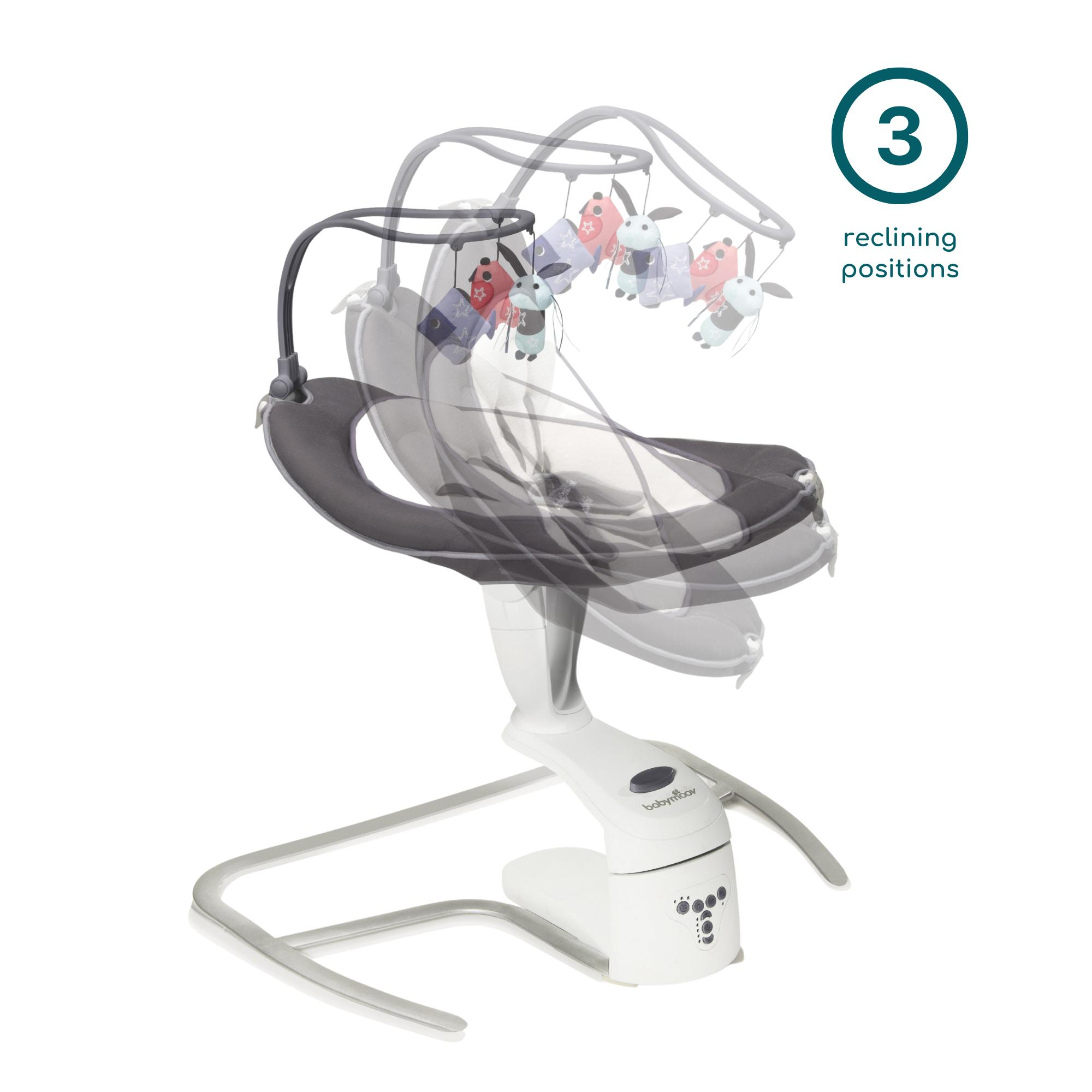 Entertainment and stimulation with a baby motion chair
As well as settling your baby, the Swoon Motion electric baby swing **encourages early family interaction and play from birth **due to its adjustability and interactive height. Swoon Motion's electric rocker seat rotates 360°, so you can easily redirect your baby in any direction, reducing the need to carry the swing around to keep your baby in sight. The rocking baby swing also provides early stimulation and entertainment for your baby. Engage and soothe your baby with the adjustable sensory toy bar and eight different lullabies! Mains power supply adapter is included.
Why the Swoon Motion is the best electric baby swing in the UK?
360° BABY SWING ROTATION: The 360° baby swing allows you to settle your baby's view to any direction in the room, no need to carry the swing around or continually adjust its position.

MULTI-POSITION BACKREST: This rocking baby swing features three reclining positions to help your baby to relax and unwind.

TWO ROCKING MODES: Let the Swoon Motion rock your baby to sleep with two soothing rocking modes - side to side or forward and backwards.

NATURAL ROCKING BABY SWING: The baby motion chair is designed to mimic the same soothing motion your baby experiences when being rocked in your arms. Swoon Motion has five rocking speeds and three duration cycles to choose from – either 10, 20 or 30 minutes.

MOTION DETECTOR: If your baby is easily startled and struggles to settle, this function will automatically detect their movement and re-trigger your chosen swing cycle.

100% SAFE: The five-point harness keeps your baby safe and secure, so you can relax and make happy memories.

ENCOURAGES EARLY STIMULATION + PLAY: The Swoon Motion electric baby swing features a play arch with two sensory early learning toys – a bell and crinkly paper. Or, when it's time for your baby to rest, there are eight soothing lullabies to choose from, along with adjustable volume.

PRACTICAL + COMPACT: With a foldable stand, the Swoon Motion baby rocker swing is easy to dismantle and move around. The seat cover and newborn insert are fully removable and can be machine washed at 30°C. The mains power supply adapter is also included.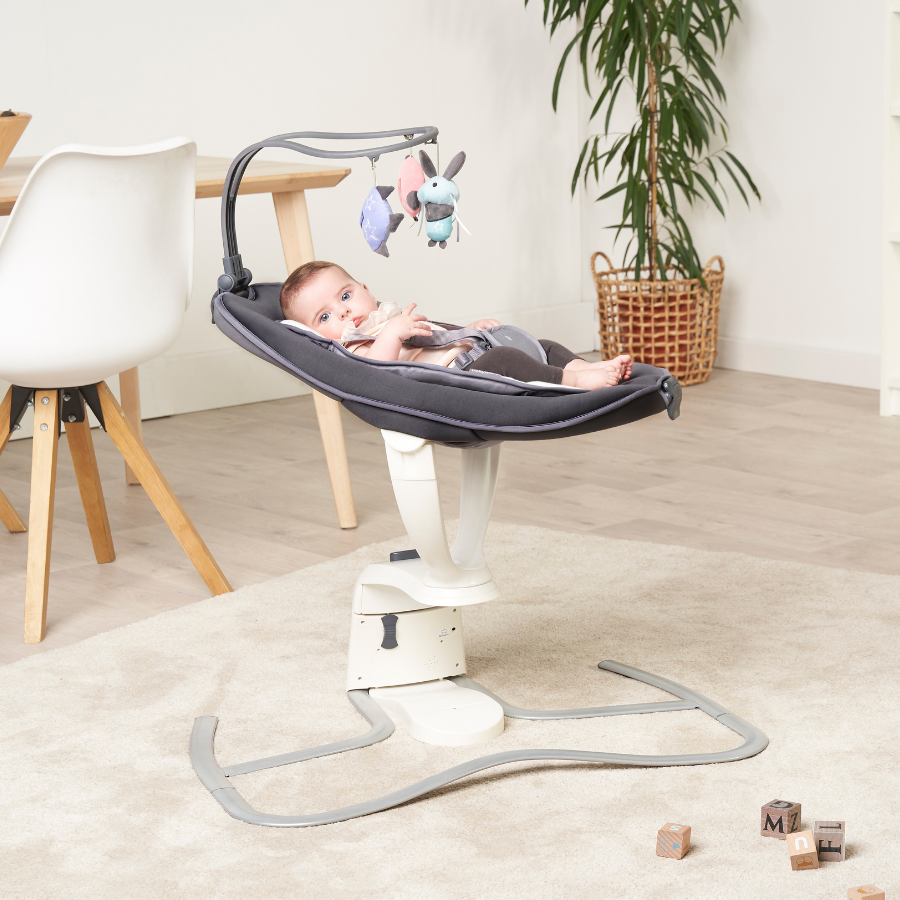 Swoon range swings comparative chart!
Good quality, very stable and strong balance
The media could not be loaded.  Good quality, working all , not occupied to much space , easy to install , found it very useful!
What a buy
Parents! Honestly if your kid is one of those you can settle then put down this is the one. I work all hours and once my wife has settled our daughter she will sleep happily on the lower settling of rocking. That's sufficient the other settings you don't need. If you want to out the timer on and then the sensor it will recognise when your child is stirring then restart and rock them back to sleep. Product is high quality materials toys the lot. Its worth every penny. The seat exchanges from new born to infant. Its perfect if you look at the price and think that's alot. Don't. The money you pay is well worth it. 5 star product and cheaper on amazon than babymoov
I'd recommend
Lovely swing, will definitely last a long time! My newborn goes in it for short period of times, as she gets older I think she'll like it more and more. Love the fact you can plug it in and don't have to bother with batteries. Definitely worth the price.
Amazing value for money
Amazing value for money. Thick, sturdy, comfy and quite simple to assemble. The little one absolutely loves it and it will definitley be used again when baby#2 turns up!!