Description

Technical features

Emission power: 2,99 mW**
Frequency: 865 MHz
Powered by rechargeable Lithium Battery (parent's unit) and 3 AAA batteries (Baby's unit) or mains operated (adapters included)
The sleek, innovative and multi-functional audio baby monitor
Thanks to Digital Green Technology, the Premium Care baby monitor combines the performance of digital technology (zero interference and clear digital sound) with low-wave emission levels to ensure baby is safe at all times. The stylish LCD touchscreen is easy to use, plus the night light, thermometer and lullaby functions assist with settling baby too.
Packed full of useful features, the Premium Care Baby Monitor is an outstanding piece of baby safety technology. With a huge range of 1400m, you'll never be out of reach from baby. The handy two-way walkie-talkie feature allows you to communicate with baby via the monitor, without having to go into the nursery every time. The Premium Care Monitor is designed in stylish black and brushed aluminium, so it's incredibly lightweight whilst looking sleek and stylish. In addition, the monitor is built using Digital Green Technology, which transmits using a low emission frequency to reduce the level of electromagnetic wave exposure for baby.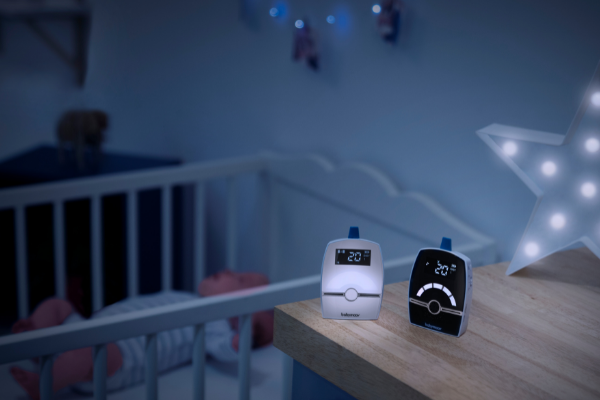 Digital Green Technology
At Babymoov, we're always innovating to meet the needs and expectations of parents. The creation of a brand new technology, Digital Green Technology, combines the performance of digital technology (clear sound, zero interference) with the safety of** low-emission power levels**.
The Premium Care is one of the first baby monitors with low electromagnetic emissions using Digital Green Technology, making it one of the safest on the market. The modern day home is filled with electromagnetic radiation: every electrical device produces electromagnetic fields (EMF). Studies have shown that babies absorb 60% more of these electromagnetic waves than adults. Parents may inadvertently be putting their infant at risk by increasing exposure to EMFs in their bedroom, especially if they use Digital Enhanced Cordless Telecommunication (DECT) baby monitors, mobile phones, digital clocks, and wifi around their baby. Research into the effects of EMF exposure have resulted in conclusive evidence that even moderate levels can cause biological stress, whilst prolonged exposure can have more serious effects upon the immune system.
The Premium Care baby monitor emits up to 33x less electromagnetic waves than some monitors, ensuring it is safe for use around little ones.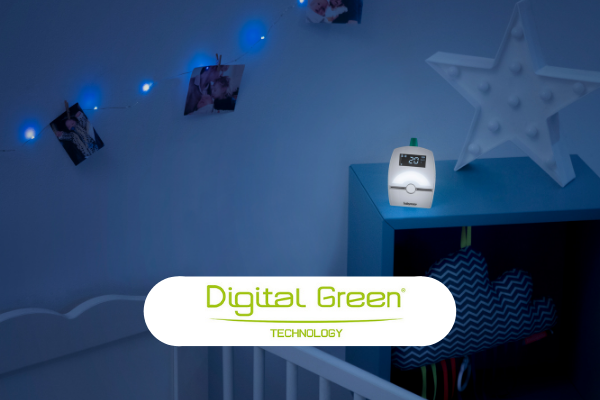 voice activated display.
voice activated display. room temperature, sound and play music. see and hear whats what. without leaving the room. i use them to monitor room temperature. usb or battery operated. large clear display, sound poor but clear enough know whats what. ideal purchase.
Quality
Simple easy to install and use product
Easy to use monitor
Really easy to set up and has a good variety of functions of which I found the temperature monitor to be really helpful as it was something I'd always taken for granted and it really helped to prevent the room from getting too warm. The motion sensor was a bit hit and miss but generally worked well and the sound pick-up was good. The range is also really good and so much better than baby monitors we've used before. There are cheaper and worse, and more expensive and better. At a touch over £75 this monitor isn't cheap but I'd say it's a fair amount for peace of mind, especially as it's a one off investment you can use many times, or pass it on to another new parent.
Simple and effective
This is a great Baby Monitor and is being used as a spare at the Grandparents house to save us moving ours back and forth. The design is fairly simple but effective - the Baby unit can be a nightlight and play lullabies which is a lovely feature, all of which you can choose from the parent unit without being in the room so this is very handy for attempting to settle Baby without physically going in. The nightlight is also handy so you can see what you're doing once in there without putting the main light on.It's very effective and sound quality is clear. It doesn't have as many features as the other ones we use at home which have the camera function but this does do a good job and you can talk to Baby from your parent unit in another room, again without going in there so sometimes this does work from the comfort of your bed if it's just a small whinge!!All in all a great little unit, good range and no problems as of yet, recommended.
Good quality baby monitoring system
Good quality baby monitoring system that is easy to use and provides reassurance for parents. Two-way communications is possible through these speakers so you can reassure your baby without having to go into the room which is a really great feature. The sound quality isn't pristine, but that doesn't really matter - you hear what you need to hear from your baby to be reassured or to know when to take a look to check that all is well.