Description

Technical features

Car plug adaptor included
Composition: polypropylene, ABS / BPA-free
Care: internal and external surfaces can be cleaned with a damp cloth. The adaptor ring, measuring cup and basket are all dishwasher-safe.
Wattage: 12V - 100W, 220/240v - 300W
Mains power supply (home) or plugged into the cigarette lighter (car), adapters included
Dimensions: 12 x 13 x 16.5 cm 
Designed to gauge the precise heating time for the contents of your bottle
Simply enter the quantity of milk and temperature before heating and NutriSmart will adjust the warming temperature. This smart heating process is designed to retain 100% of the nutrients and also gives you as parents peace of mind that milk or food is defrosted and warmed thoroughly to a safe temperature for baby at the click of a button.
Choose from 3 pre-programmed one-button functions designed for both formula, breast milk food jars and pouches. The 'bain-marie' function heats gently with a max temperature of 65°C which is specifically suited to preserve the nutrients in breast milk. Alternatively for speed, you can warm a bottle in as little as 80 seconds (65 ml of water to 37°C) with the pre-programmed 'steam' function.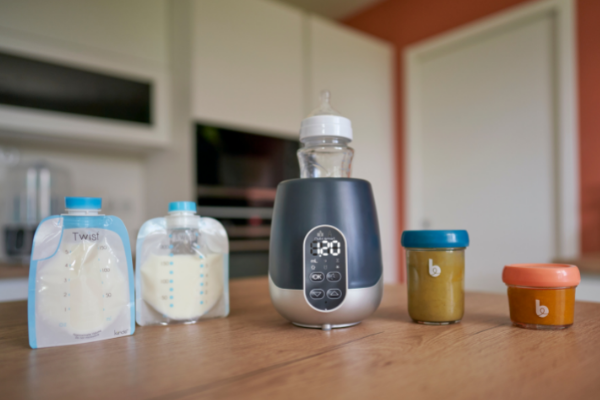 Quick prep for baby and minimal effort for parents.
Nutrismart helps to maximize on precious sleep time too - select the third pre-programmed function which programs NutriSmart to heat milk ready for a time that you choose (up to 12 hours ahead), so that you can have a bottle ready for baby exactly when it is needed, day and night! Quick prep for baby and minimal effort for parents.
NutriSmart is universal with all types of baby bottles, food jars and milk pouches (max. 8 cm diameter) maximizing the products longevity in your baby's life from newborn through to weaning as well as quick meal warming too.
NutriSmart is ultra compact and easy to use at home or in the car. Car plug is included.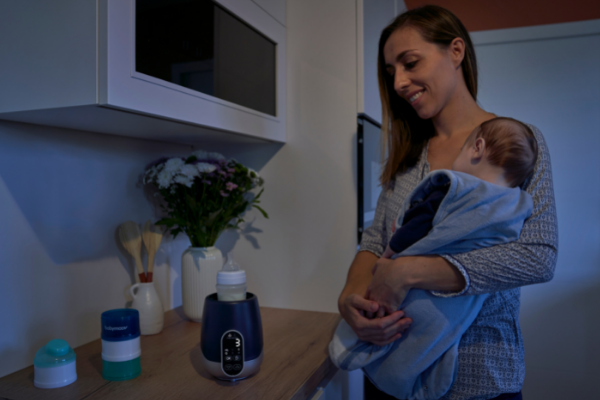 Why you will love Babymoov NutriSmart Bottle Warmer
Enter quantity and temperature of milk to be heated. NutriSmart automatically sets the optimal heating time based on this information in order to preserve nutrients and ensure thorough, safe heating and defrosting.
NutriSmart's 'bain-marie' function (65°C max.) warms breast milk slowly and gently.
Quick warm 'steam' function 80 seconds* to heat 65ml of water to 37°C.
Pre-set programme to heat bottle ready for a specific time in the future (up to 12 hours ahead) Ideal for preparing a night-time feed or ensuring a bottle is ready first thing in the morning.
Maintain a bottle or food jar at an ideal temperature of 37°C for up to 1 hour.