Description

Technical features

Materials : P/ABS + PS (Base)
AC 220-240 V - 50 60 HZ

Dimensions 26.8 x 24.2 x 35 cm

Video
Ensure the healthiest air condition with the Hygro+ humidifier
The perfect sleeping space for baby starts with a clean and safe environment for newborn lungs when sensitivity is at its highest. The Hygro+ noiseless humdifier uses a built in hygrometer to maintain the healthiest moisture level in the air for baby.
An optimal humidity rate with Hygro+ has a whole host of health benefits to baby and anyone in its path including reducing the build-up of bacteria, airborne dust particles, allergens and other indoor pollutants which your baby's immune system is at risk to. That includes more common infections such as congestion, colds, coughs, asthma, summer allergies and eczema.
The Hygro+ 3 in 1 humidifier uses a silent cold-mist output to reduce the physical impact of these and enables a greater air flow for your child to breathe easier through the night and during the day.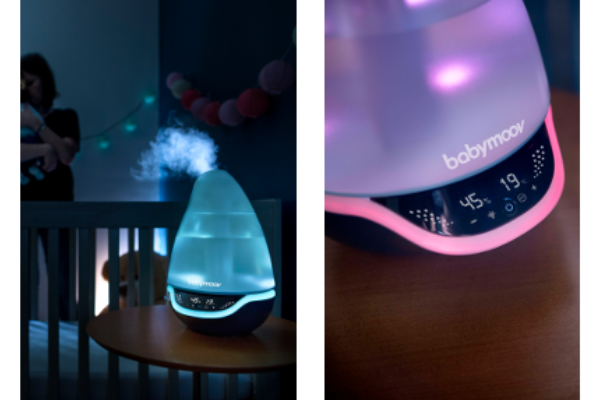 How to use Hygro+ 3 in 1 baby humidifier
Control the humidity level automatically or manually change via Hygro's ergonomic backlit touchscreen interface with useful room temperature display. Hygro+ baby humidifier has an adjustable 360-degree cold mist output meaning you can point the funnel in any direction you choose.
With a full tank of water, the Hygro+ 3 in 1 humidifier will run for 22 hours and automatically cuts off when the water level is low giving parents peace of mind when in use during the night. The baby humidifier's ergonomic tear-drop shaped tank is also a soothing 7 colour-changing nightlight.
If you would like to introduce a soothing baby-friendly scent into the home, Hygro+ can also be used as an oil diffuser! Underneath the cool mist funnel, put a couple of drops of your chosen oil in with a few drops of water – we recommend something like lavender or camomile for babies.
Please note: it is important to maintain the cleaning of the Hygro baby humidifier. Over time, a lack of cleaning can interrupt the smooth functioning of the unit itself. We would recommend cleaning as often as once a week and filling with a fresh tank of water with each use.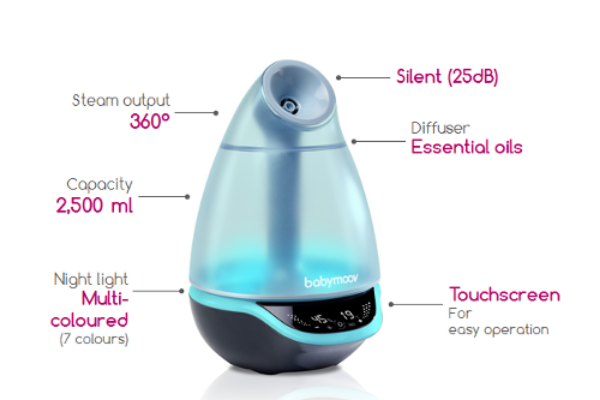 Lifetime warranty
Babymoov is committed to offering high quality and 100% safe and certified products. To demonstrate our commitment to quality always, we offer a lifetime warranty promise on all our products.
For any questions relating to the function and maintenance of the Hygro+ 3 in 1 humidifier, please call our friendly customer service advisors on 01823 772998. Phone lines are open 10am-2pm every weekday.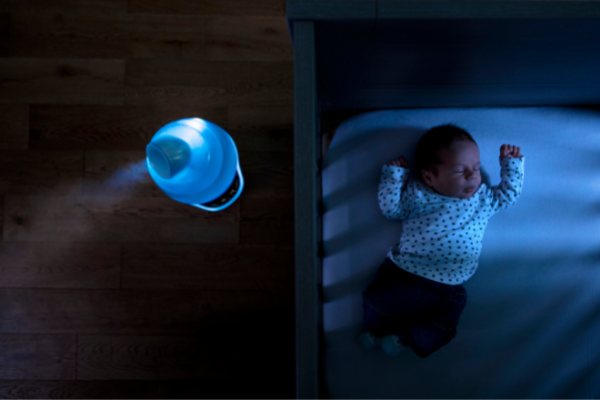 Lasted only 6 months
We had this for 6 months before the power unit completely shut down. Babymoov refused to honour the lifetime warranty as I hadn't registered within 2 months but also refused to honour the 2 year manufacturer guarantee which comes under EU consumer rights as I hadn't bought the product from them or one of their approved suppliers!
Completely disappointed by babymoov.
The product itself didn't work consistently well. It was very hard to clean as there were part of the machine which are impossible to access and I tried different brushes, clothes etc. therefore the limescale built up.
It would also leak easily from the reservoir.
It does the job
It is ok, but I found it quite heavy when filled up with water. Also instructions are not clear … what should be the size of the room and where to place the humidifier is not indicated…
Otherwise the parcel arrived on time
Does the humidifying job advertised.
My Hygro(+) is satisfactorily humidifying the room for which I bought it. My only moan is that no instructions are given on what the controls are for.
Amazing!
Good investment for my four years old daughter. Who was having night coughing crisis for two weeks. First night I used it coughing stopped.