Description

Technical features

• Composition: 100% silicone, guaranteed free from BPA and phthalates

• Care: all the parts in the GROW'ISY mealtime set are dishwasher-proof or can be hand-washed

• Dimensions:

- Plate: 22.7 x 15.7 cm

- Drinks bottle: 8 x 5.3 x 12.7 cm

- Spoons: 14.6 x 3.7 cm
Eat EASY with the NEW EATS' ISY mealtime range
To support fine motor skills at every stage from 6 months Accepting new foods, tastes and textures is an important phase in your child's development from the age of 6 months. As parents introducing your baby to a diversity of flavours and teaching them how to feed safely and independently is something we all want to encourage at the weaning stage. And because each stage is important, using the best mealtime accessories adapted to their age and capability makes these new discoveries that much easier and enjoyable for them.

Co-created specifically with child-care professionals As experts in weaning and feeding for baby for over 20 years, Babymoov has worked with childcare professionals (occupational therapist, paediatricians and nutritionists) to develop the EAT'S ISY range: age-adapted mealtime accessories ergonomicallly designed to meet your baby's needs. 100% silicone and age specific, EAT'S ISY will help your child through all the stages of weaning and becoming independent."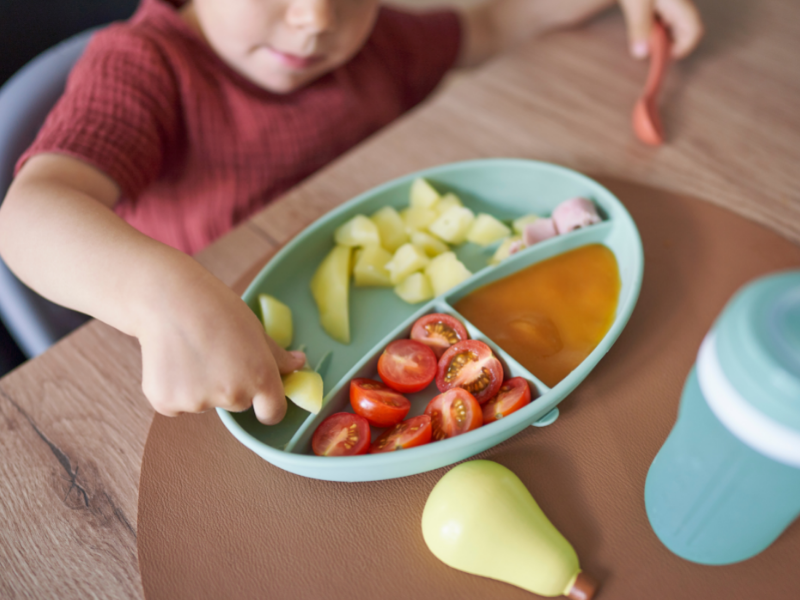 Grow ISY 3-piece meal set for feeding Independence
Silicone divider plate with unique safety food cutting fins Babymoov Grow ISY plate reimagines the use of a knife as we know it, for baby by featuring 2 pairs of cutting fins within the plate mould itself (also in silicone) Without sharp or cerated edges, soft prepared foods can be pushed onto these with the same effect as splitting or cutting foods but eliminating the any risk. Developed with a french Occupational Therapist, not only does this design encourage fine motor skills and co-ordination but gives baby early independence to explore foods in their natural shape. The cutting fins are situated on both the left and right hand side of the plate to accomodate left-handed eating and right-handed eating.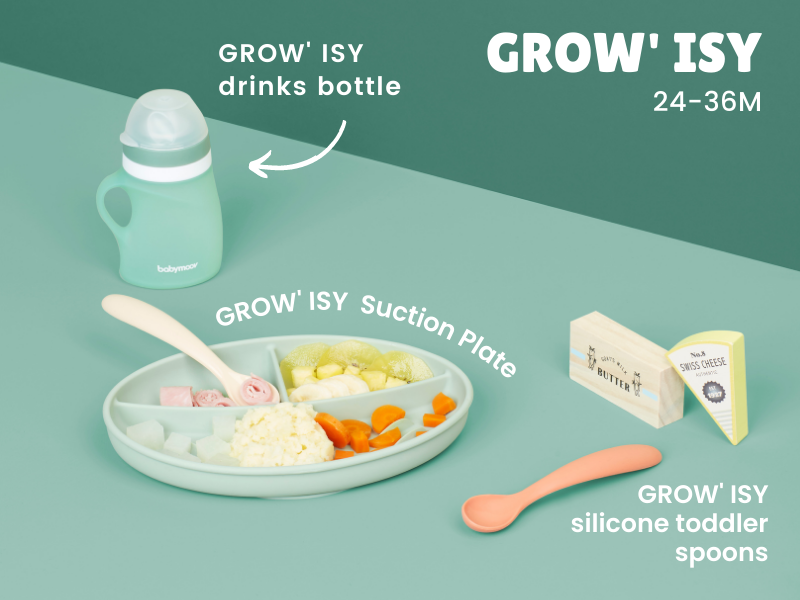 2 Ergonomic Silicone feeding spoons
Silicone divider plate with unique safety food cutting fins Babymoov GrowISY mealtime set includes 2 x 100% silicone flexible spoons in beautiful two-tone colours - the ideal soft curved feeding spoons for an easy grip and a deep spoon head for easy scooping of food.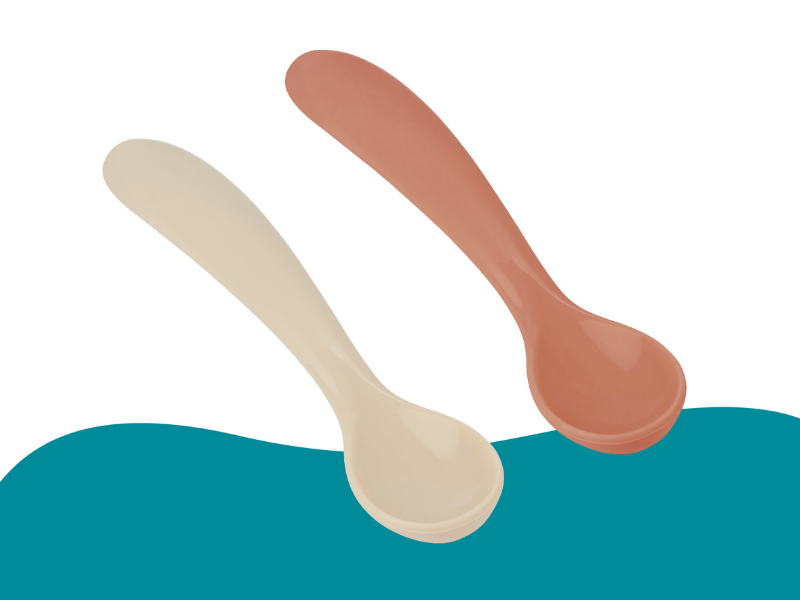 Ergonomic silicone easy sip drinking bottle
The silicone drinking bottle is specifically designed with a curved shape to accomodate an ergonomic handle which enables baby to hold the handle securely and easily turn it 90 degrees to drink. The handle is situated so baby doesn't have to throw their head back to drink, only to move their wrist. The bottle comes with 2 different flow silicone drinking teats - slow and fast flow depending on your baby/baby's age. Easy care: the plate, spoons and drinks bottle in the GROW'ISY mealtime set are dishwasher-proof or can be hand-washed.