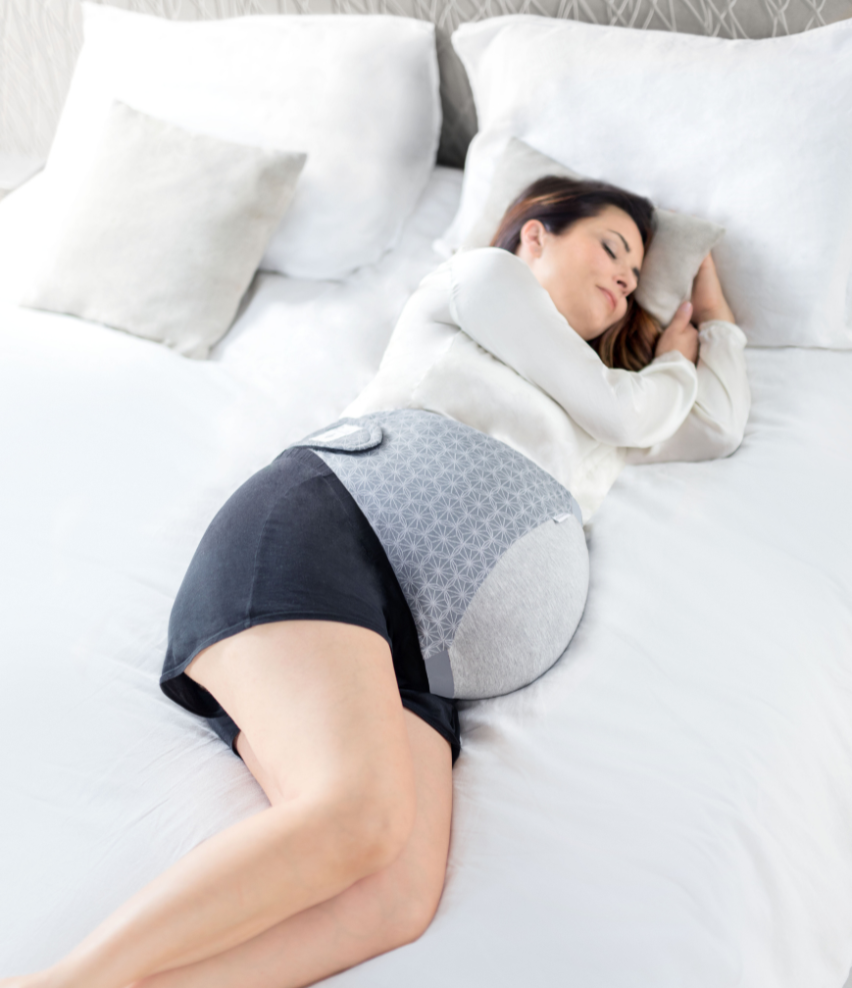 Sold outSave 25%
Dream Belt Pregnancy Wearable Sleep Support
Ref: A062010
---
The unique wearable pregnancy sleep aid to offer exceptional support to your growing bump day and night
Stretchy, breathable jersey belt with memory foam padding inserts
Supports your bump in the safe 'side-sleeping' resting position
Easy wearing: Velcro fastening around the back Prolonged comfort for mum-to-be
2 Elasticated strips at the top and bottom of the belt to fit your bump perfectly.
Moulds and adapts to your body through pregnancy
Available in 2 sizes - XS/S and M/L
Can be used directly on the skin or over clothing
Delivery time 2-3 working days ♡ Free shipping when you spend £40. Returns possible within 14 days of purchase
Description
Co-created with expectant mums and midwives
to improve sleep comfort during pregnancy.


Super soft memory foam on either side of Dream Belt fills the gap between hip and mattress, enabling comfortable side-sleeping (recommended to be the safest sleep position during pregnancy by experts at www.tommys.org)



Exterior: 95% cotton, 5% elastane Interior: 100% polyurethane
Machine washable at 30°C (remove memory foam pads first)
This product is rated 4.4 of 5.0 stars.
It has received 70 reviews.
I can move without creating a cushion avalanche!
I am a size 12 but measured myself and was more suited to the larger size, which was disconcerting. However, I ordered this cushion and it fits.It's really comfortable and enables me to lie on my side with my pregnant belly (27 weeks) supported nicely. I am sleeping better and I don't have to reposition loads of cushions every time I move / get up. Really pleased with this purchase but clothes sizing indicated is not accurate, so recommend you measure yourself and use the cm guide to find the one for you.
Pregnancy essential, best buy for my pregnant wife
This belt was a life saver for my wife throughout her pregnancy. It gave her relief through all trimesters, allowing her to be more comfortable in bed. If you're on the fence about buying this, don't be. It's the best buy I made for my pregnant wife, hands down.
Amazing
Used for my entire pregnancy. Couldn't sleep a night without it
Lifesaver
I'd given up on the idea of having a good nights sleep till the end of my pregnancy until I found this, I'm 33 weeks pregnant and have been suffering sleeping for about a month now. Honestly this was amazing , I woke up with no pain and managed to sleep all the way through, it moves a little when u sleep but nothing to wake you up in the night. Honestly wish I got one sooner . I'm now going to buy a belt for day use also as I think will be worth it too.
Good Product but results may vary
Purchased this due to hip pain and back pain at night during my pregnancy. I think the belt is a fantastic idea, but I just can't get to grips with it.I have persevered but it doesn't seem to fit quite right, almost as though I am too small for it (size 8 usually) despite buying the smaller size. I also think it depends on your mattress (how soft or firm) already supports you as to how well it will work. Personally, I found the pads too hard when actually wearing the belt in my own bed, but found that when staying with family the belt was a life saver on a hard mattress.Regardless, the belt still comes in handy, and I've found that lying on my side, on top of the middle of the belt, in between the two memory foam parts, provides nice support for bump and back - not what the manufacturer had in mind I am sure! So the plan is to stick with it and keep trying to wear it properly as bump gets bigger, I am sure it will fit better eventually as other users have pointed out.