Description

Technical features

10 lullabies, 2 white noise tracks
Projector nightlight of multi-coloured stars

Automatic shut-off (light and sound) after 30 min

Option to operate sound and light independently

Cuddly toy shell is detachable to wash Battery operated x3 AAA

Gentle and comforting, Lulu the sheep night light is perfect for reassuring your baby at bedtime!
This Badabulle projector night light transforms your baby's nursery into a multi-coloured starry sky, making it the perfect soft, magical night light to reassure them at bedtime. Or, for a change, you can set the baby night lamp projector to a restful colour-changing glow. The Lulu musical night light also features ten lullabies and two white noise sounds (heartbeat and nature) to relax your baby and ease them into a gentle sleep.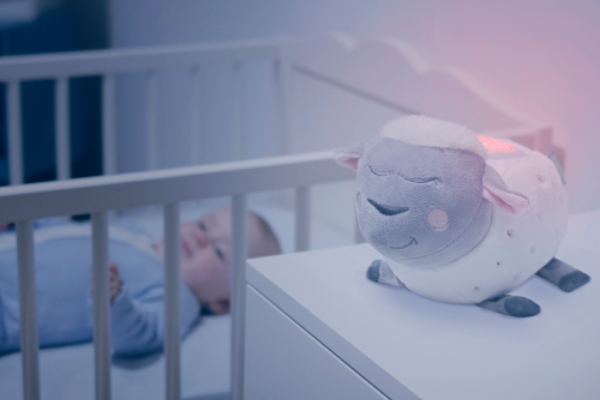 The best baby night light projector with music for gentle sleep
This baby sensory light projector can be tailored to your little one, turning their bedtime into a magical sensory experience. You have the option to operate the sound and light independently to suit your baby's needs, and the baby sleep projector can be set to switch off automatically after 30 minutes.
Cuddly and soft, this sweet sheep night light doubles up as a soft toy for your baby to snuggle up to – so it's suitable for use in their crib. The night light is fully removable, so you can hand-wash the soft toy to keep it clean and tidy.
Why you'll love the Lula baby night light projector...
Parents adore the Badabulle Lula baby night light projector! That's because its super-soft cuddly toy provides bedtime comfort while the projector night light reassures with its starry night sky illumination! Thanks to its relaxing music and lights, your little one will quickly be dozing off into a restful, soothing slumber.
Best baby light projector with multi-coloured stars
Features 10 lullabies, 2 white noise tracks for relaxation
Automatic shut-off for light and sound after 30 min
Soft toy night light is suitable for use in baby's crib
Option to operate sound and light independently
Cuddly toy shell is fully detachable for washing
---
Composition: 100% Polyester (soft toy) / polystyrene (night light casing)
Care: Soft toy is hand-wash only in cold water, without the casing
Power supply: Operates with 3 x AAA batteries (not included)