Description

Technical features

Composition: 75% Organic Cotton / 20% Polyester & 5% Elastane
Filling: Polyurethane foam
Removable cover, machine-washable at 30° (Please note, these cushions come with a childproof safety zipper.
To open, we recommend you use a paper clip or similar to insert into the zipper where the handle would typically
be placed, then pull as normal)
This Cocoon cot reducer is wonderfully soft for your baby
Made-to-measure: The Cocoon cot reducer is designed to reassure baby. It creates a comfortable, made-to-measure space for your baby, whether they are in their cot, playpen or elsewhere. At the head, the Cocoon is made from micro-breathable 3D fabric. A great way to improve your baby's well-being and safety. The back section and sides are made from organic cotton jersey to care for your baby's sensitive skin. Your baby is comfortably positioned on their back (in accordance with WHO recommendations).
Adaptable: The Cocoon cot reducer adjusts as your little one grows. The bottom of the nest opens to create more room for their little legs
Hygienic: The Cocoon cot reducer is practical and hygienic. It has a removable and machine-washable cover.
Additional Washable Cover Available: Perfect for inbetween washing your main cover, our super soft white and grey marl Doomoo Cocoon spare cover is made from the same breathable organic cotton!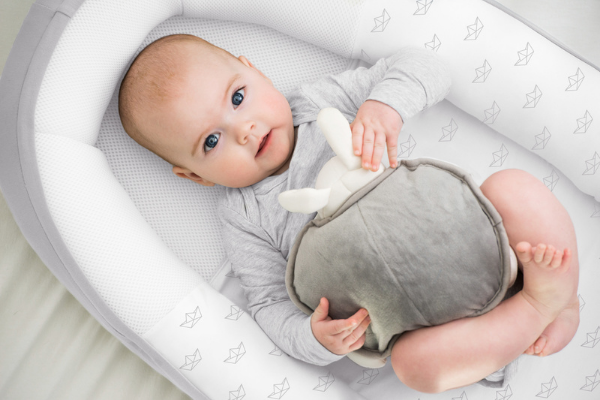 What makes the doomoo Cocoon safe for overnight sleep?
Doomoo Cocoon can be used overnight unsupervised due to compliance of materials and construction compared to other relevant overnight sleeping products for babies. The product has a firm roll surrounding baby which is constructed with highly breathable 3D mesh specifically to address concerns of suffocation and eliminates the risk of over-heating when a baby is unattended. Doomoo Cocoon has been through a risk-based assessment in an external laboratory according to use in a bed or in a playpen.
Our firm (but comfortable) mattress complies with general Paediatric recommendations. We also recommend that the child is placed on their back on a firm, flat surface. Doomoo Cocoon cover is machine-washable to ensure compliance with hygiene requirements for sleep products also.
What tests has it passed and who accredits them?
The Doomoo Cocoon design was created in accordance with the most up to date and relevant safe sleep guidelines for babies. We rely on the analysis of several accredited and independent laboratories such as SGS and Bureau Veritas. Babymoov also works in collaboration with various stakeholders (laboratories, doctors, supervisory authorities and other manufacturers) to pool common safety requirements for products within a child's sleeping environment. Doomoo Cocoon has undergone comprehensive risk assessment and safety testing which enables babymoov to claim that this product is safe and fit for overnight use. Extensive testing including flammability, suffocation risk via the cocoon walls and risk of falling if the product is used on a high surface was also carried out on this product. Chemical testing has also been assessed for the Doomoo cocoon, which confirms our organic materials used on this cocoon strictly comply with REACH regulation.