Description

Technical features

Power: 50.11 mW
Rechargeable 1440 mAh lithium battery for receiver
Sound activated baby monitor with a large screen for watching over your bundle of joy
Double award-winning video baby monitor YOO Moov features a unique 360° motorised camera to give you the best view of your baby's room at all times!
Looking for a wall mounted baby monitor? Although it can be displayed on any surface, the Babymoov YOO Moov motorised video baby monitor comes with a wall-mounting kit for panoramic views of your baby's room. This makes the YOO Moov perfect for** keeping an eye on twins or multiple children in one room**. Plus, the monitor and cable are kept well out of your baby's reach.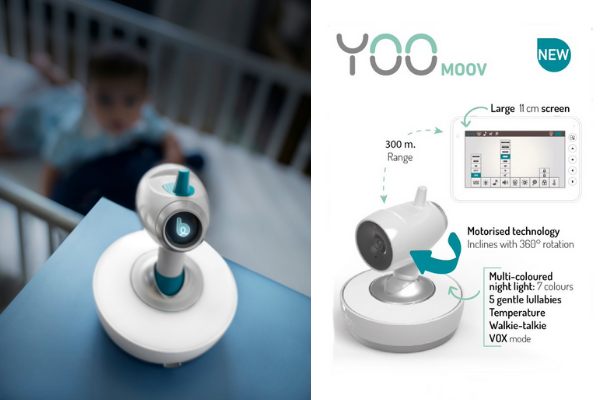 The batch number relates to weeks and years, so 4119 means the unit was manufactured in the 41st week of 2019. The batch number for your monitor can be found on a silver sticker inside the battery compartment, underneath the battery, OR on a silver sticker on the base of the camera unit. It will be 8 digits long, the first 4 numbers relate to the date.
Please contact customer service if you need any help at all. Call: 01823 772998, WhatsApp/message: 07511 157068 or email: services@babymoov.com