Description

Technical features
• Composition: silicone, guaranteed free from BPA and phthalates
• Care: the bowl and spoon are dishwasher-proof or can be hand-washed
• Dimensions: - bowl: 16.3 x 12 x 5.3 cm - spoon: 14.2 x 2.1 cm
Part of the Eats ISY weaning and mealtime range
• Tailored to every development stage from 6 months onwards – The Taste ISY weaning set is part of the Eats ISY range, which has been designed to support children in developing motor skills and becoming independent from 6 months. Tailored to the 12-24 month stage, this silicone weaning set will help you introduce your baby to a range of new flavours as well and mastering independent eating.
• Co-created with an occupational therapist – We've worked with childcare experts to develop every item in the Eats ISY range, including our suction bowl and spoon weaning set. It's age-adapted for 12-24 month old babies. It's 100% silicone and ergonomically designed to help your child through weaning, mealtimes and independence.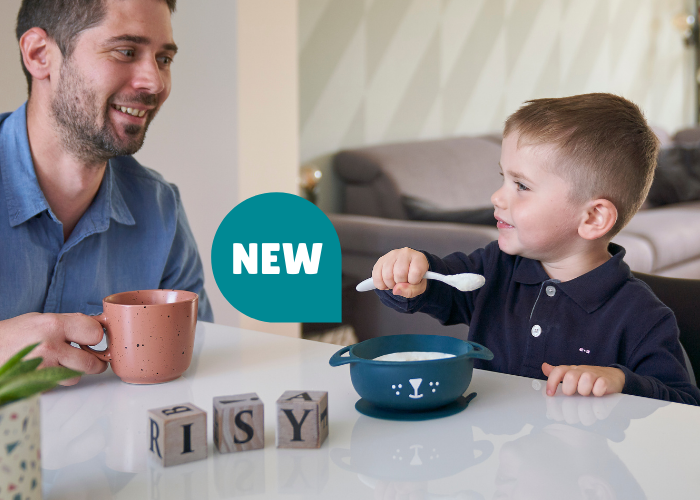 2-piece bowl and spoon weaning set
• 1 silicone baby bowl – With a strong suction pad to secure to your highchair or table, there's no need to worry about food being spilt or knocked over. The Taste ISY weaning set has a bowl that can be secured to the surface to reduce mess while your baby explores their food. The silicone weaning set has a flexible, smooth and soft surface so it can be easily cleaned in the dishwasher or by hand.
• 1 soft silicone weaning spoon – The Taste ISY mealtime set comes with a soft and supple silicone weaning spoon for little fingers and small mouths. It's soft and flexible design makes it suitable for baby's gums or teething babies.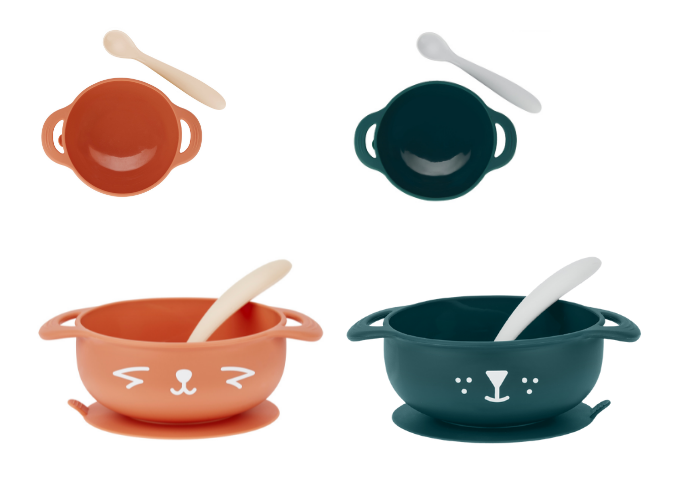 What you'll love about the Taste' ISY bowl 2-piece weaning set
Convenient mealtime and weaning kit – bowl and spoon set
Age adapted for babies aged 12 to 24 months
Assists with the development of fine motor skills and promotes independence when feeding
The spoon is made from soft silicone making it ideal for little mouths, including sensitive gums
Durable silicone bowl featuring a suction pad for non-slip use
A small tab on the bowl's suction pad makes it easier to remove it from the surface
Made from 100% high quality silicone – strong, durable, lightweight and BPA free
Both pieces in the 2-piece weaning set are dishwasher-proof or easy to hand-wash
Oven-proof and microwavable bowl
Choose from 2 colours – blue dog and blush fox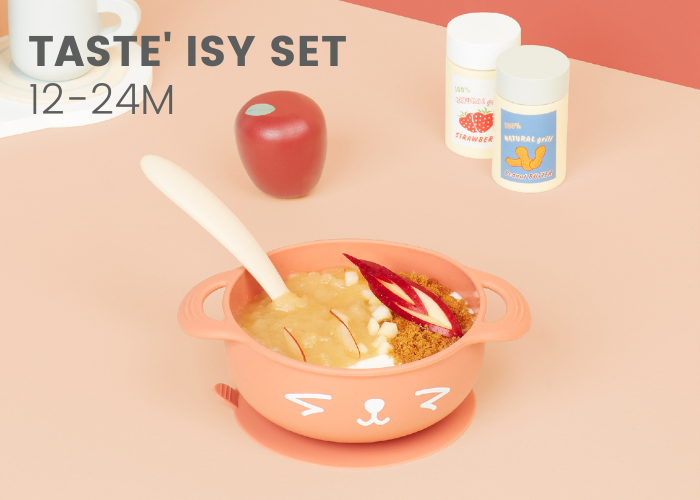 Discover the Eats ISY silicone range
The Eats ISY range include 4 mealtime sets for different stages and ages plus individual accessories.
First ISY (6-12 months) suction bowl, spoon and bib
Taste ISY (12-24 months) suction bowl and spoon
Learn ISY (12-24 months) COMING SOON
Grow ISY (12-36 months) suction plate, beaker and spoons
Eats ISY suction plate dog
Eats ISY suction plate fox
Eats ISY Fox Food Flask
Eats ISY silicone sippy cup COMING SOON
Eats ISY silicone bibs twin pack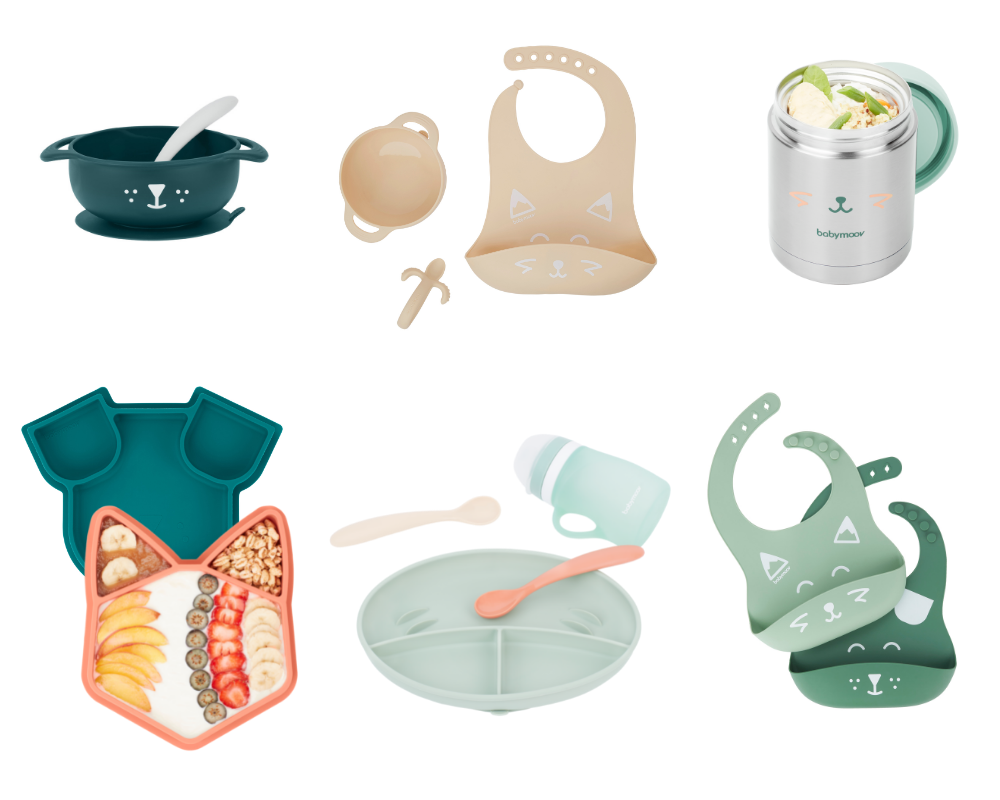 Really cute and well-made
This is a really cute little weaning set, that looks and feels really sturdy and well-made.There is an in-built suction cup, which is a little bit weak on the suction side of things but does a reasonable enough job in keeping the bowl steady for normal feeding activities (as long as the baby isn't actively wrenching it off the table etc!).The materials and design of the bowl and spoon make them super easy to clean and there are no nooks and crannies where germs/mould could lurk, which I really liked.I would definitely recommend this brand for baby feeding/weaning items and will be getting more in future!
Silicone self feeding set, ideal and works well.
Toddler feeding bowl and spoon set made from silicone in sand fox with cute character to the front of it.Pros:-trusted brand Babymoov-great for ages 15-24 months-suction pad keeps it stuck down on our wooden table-tried and tested through the dishwasher on air dry mode and comes out with picture still present!!-recyclable packaging as is all cardboard-guaranteed free from BPA and phthalates-£12.86 great price and would happily give as a giftCons:-nilVerdict:Would absolutely recommend, great as a gift too.
Cute and practical!
Another well designed product from Babymoov! This is for slightly older babies than the 3 piece feeding set. The bowl is pretty much the same in both sets, but this one has a different spoon for slightly more dexterous hands.I haven't had any issues with bowl suction not being especially strong, but I guess I don't expect it to be completely immovable but rather to stop it sliding around when trying to scoop food out, which it does.The plastic-free packaging is great and the products are all dish-washable (unlike some other brands!). Plus I love the cute dog design!
Good suction
This is one of the few bowls that actually have decent suction power. My toddler wasn't able to move it, which is incredible. It comes with an adorable spoon included and is very soft. I love the colour as tomato sauce always stains the bowls but with this one it won't be an issue. Easy to clean and dry and no spaces where mould could develop
Great for self feeding
This is perfect for when my friend's son comes to visit. It's a lovely coral colour. Great for helping him self feed. The bowl has good suction power on our stokke highchair and he isn't able to lift it up with ease. The spoon included is nice. A good price and seems very robust. Wonder how it will cope with our cultural dishes that have a lot of oily sauce as we've had bowls that stained in the past.