Description

Technical features

360° baby bouncer chair from birth with rotation & locking ability
Height adjustable with one simple click!
3 backrest positions & 2 seat positions
Super soft newborn support insert
Insert and cover are machine washable (30°C)
Aerodynamic, compact base 
Video

The Ergonomic easy to adjust, height bouncer with 360° chair rotation puts baby at the heart of the family for easy interaction and the ultimate comfort for baby straight from birth.
No complicated adjustments, Simply press the central button once to adjust the seat through 5 positions: 3 tilting positions for the bouncer backrest and 2 for the seat. For use with babies straight from birth the newborn insert physically supports, comforts and reassures baby. The 5-point safety harness keeps your baby safe in the Swoon Air at all times The unique 360° rotating seat means you can position baby to face anywhere in the room without having to physically pick up the height bouncer. For added safety, an optional locking system prevents the seat from turning. The icing on the cake: the Swoon Air is extremely stable with its aerodynamic stand! To entertain your little one during the first few months, the Swoon Air bouncer is fitted with a play arch featuring 3 sensory toys. This is adjustable through 3 positions and detachable. Swoon Air is developed with a more aerodynamic and compact stand to suit all homes and spaces.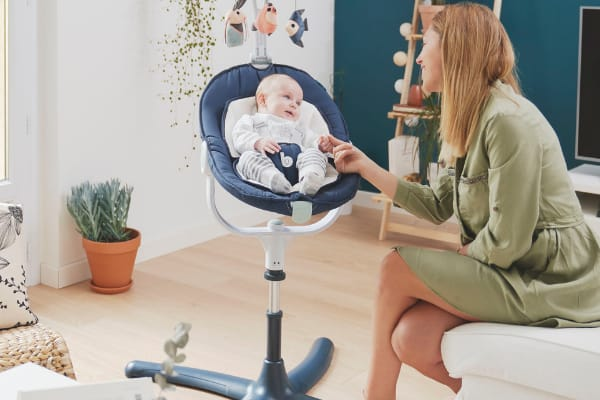 Why you will love Swoon Air...
360° seat rotation (with locking ability) for easy interaction without manually moving the bouncer
Easily adjust the height of the bouncer (to 5 positions) with a simple one handed button click!
For family interaction, for rest, for comfort and for play, Swoon Air is easy to adjust with 3 backrest positions and 2 seat positions: reclined or interacting.
Maximum comfort cushioning gives your baby the sense of being cocooned thanks to its super soft newborn insert.
5-point safety harness for safety and peace of mind at all times.
Encourages curiosity and play early on! The detachable play arch with 3 toys can be adjusted to 3 positions.
Easy care: newborn cushion insert and bouncer cover are removable for machine washing at 30°C
Ergonomic + sturdy design: Aerodynamic feet offer a stable bouncer to hold up to 9kg.