Description

Technical features

Tritan: cooking baskets (BPA Free)
SAN: mixing bowls (BPA Free)
PP: lid and trays (BPA Free)
230 V / 500 W (warm phase) - 230 V / 400 W (blend phase)
It's

 

easy to clean, each of the parts being dishwasher safe -

 

FREE from Bisphenol A (BPA)
Video

The ultimate multi-functional food prep machine for quick, easy and nutritious meal prep!
The award-winning Nutribaby(+) is the only food prep solution on the market** offering 5-in-1 cooking functions** including a large capacity steamer and blender which double up to sterilse baby bottles, reheat and defrost prepared meals and more. Nutribaby(+) also features the cooking vessel in the base of the steamer where you can cook :
Pulses & Oats
Pasta & Grains too.
For babies/families with allergies: Thanks to Nutribaby(+) healthy meals can be prepped easily right from scratch giving parents the ability to know exactly what is going into their food in place of ready made food jars and meals. Nutribaby(+) supports the combination of spoon-led and baby-led weaning with the steamer and blender functions :)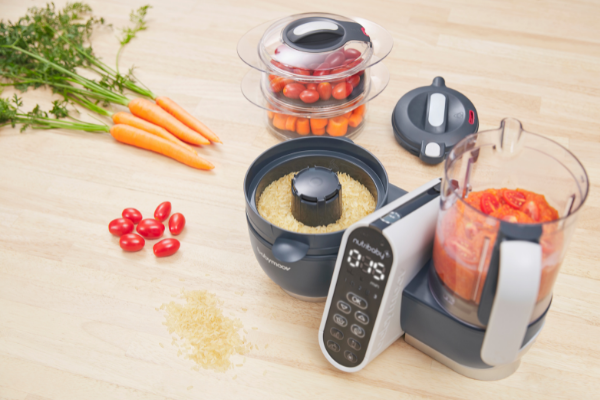 Not just for baby! The longevity of Nutribaby(+) spans right the way from pregnancy through to newborn, weaning and beyond.
PRE-BIRTH Steam cook nutritious meals for consumption during pregnancy.
POST BIRTH Warm up and sterilise baby bottles safely and easily thanks to the large capacity steam unit! Simply remove the steam base plate and create a tall sterilsing space to put baby bottles into.
BABY'S FIRST FLAVOURS From 4 months onwards, you can begin to introduce new flavours and textures. Gently steam veg for baby-led weaning or blend into purees.
Family meal times!
Easily prepare a whole family meal at once to include everyone at the table. This encourages baby to eat a well balanced diet and to develop a healthy attitude towards dinnertime and eating. 10 pre-programmed functions, you will be surprised how easy and intuitive it is to operate : 1 button = 1 function. Thanks to its extra large capacity, it can sterilise bottles, steam, blend, defrost and re-heats. No need for a multitude of appliances, it does it all !
Thanks to an independant steaming unit, cook multiple ingredients perfectly while preserving vitamins and nutrients.
The 3 blending speeds will allow you to ajust textures for soups, purées or smoothies.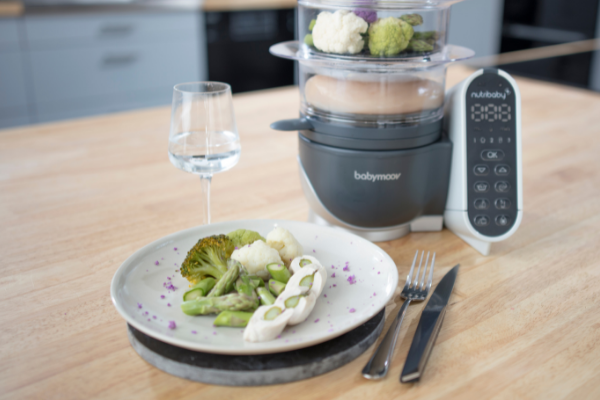 Annabel Karmel Approved!
We're proud to work closely with Nutritionists and industry experts who test our baby feeding products for their approval - including expert baby food author Annabel Karmel. "The 5-in-1 function of the Nutribaby(+) offers the complete solution for parents to be able to home-cook nutritious meals with ease. The large capacity of the Nutribaby+ is great for batch cooking baby food to store away, too."
More than 400 nutritious recipe ideas for baby weaning, toddlers, mums-to-be and the whole family, too! Visit the baby led-weaning blog Cookingbabyfood.com and get hundreds of nutritious recipe ideas to make with your Nutribaby(+). With step by step pictures, you can also filter recipes by age and ingredients!
The lid in mixer!!
Everything so far so good except there is no lid of mixer that makes food not pop out of it! (Attached a picture) Without the lid, it is IMPOSSIBLE to grind and full of mess around… plus, I gave two stars because I contacted many times for this issue but no reply at all! Please let me know if I received missing part or you are selling without it and if possible to buy separately. Fastest reply would be appreciated.
Happy with babymoov device but
I m happy with device but never received a free gift as part of promotion
Hi there, thank you so much for your review. Please contact us on 07511 157068 and we can arrange for your free gift to be delivered if it hasn't already. Many thanks - Babymoov
Absolutely amazing
Love it so easy to use and looks very nice in my kitchen perfect for making baby food definitely recommend it
Best purchase ever had
I was never so pleased than ever to buy something on online.I used it since my baby was 6 months and still now when she is 16 months.It takes a bit longer time that is written on description but you'll get a way to find which way is best on you.I didn't want to give my baby fried, oily food so simply most of her food I make with this machine and it has been perfect and it's the best. I am just sad that I didn't buy the one with the 3 floors(XXL) and sad that I cannot buy it separately.
Great product!
Great product and doesn't take up too much room in the kitchen. The steam does take a bit longer for hard veg than doing it on the hob and for the 1st stages of weaning you need to put quite a lot in the blender otherwise it takes a while but it's great for batch cooking. So easy to keep clean too! It is a bit pricy and I bought mine on the amazon prime day but good value as you can cook for the whole family using it.