Description

Technical features

Safe and secure: 4 strong suction cups on the bottom of the seat
Supportive seat back for proper seating position
The ergonomic folding baby bath seat with adjustable support to get baby in and out easily!
When bathtime comes around, it's important for your baby to feel comfortable and secure. The Badabulle Racoon Foldable Baby Bath Seat features a supportive seat back to help your baby sit comfortably in the tub. The curved, ergonomic baby bath seat and leg bar provide your baby with better comfort and freedom to move, while still giving them the support they need for a secure but fun bathtime.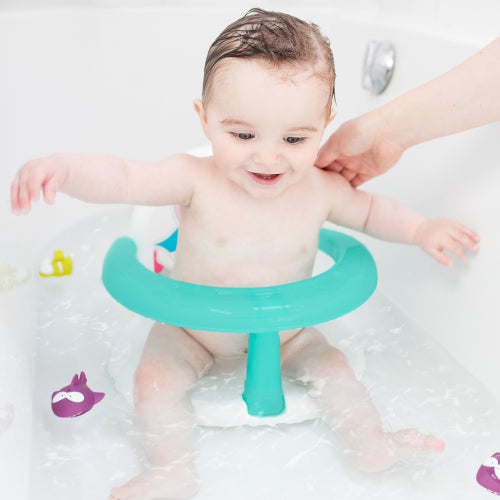 Make bathtime special with this foldable baby bath seat
This infant bath seat features a front support bar specifically designed to sit slightly below baby's arms, maximising their space to move freely. More arm space = more space to splash and play! Plus, this baby bath support seat is easily adjustable, simply open up the front leg bar to seat baby quickly and easily.
As you bathe your little one, safety is paramount. The Badabulle bath seat is secured in the bath by 4 strong suction cups underneath. Fully adjustable, the infant bath seat folds flat for compact storage in the bathroom or nursery when not in use. Plus, babies will absolutely love the cute racoon design as they play in the tub. So, it's fun for your baby and practical for you – making this the best baby bath seat for 6 months plus.
Discover the best baby bath seat for 6 months plus
Looking for the perfect bath tub seat for your baby? There are so many reasons to love the Badabulle racoon baby bath support seat – from making bathtime safe to helping you easily seat your baby in the tub.
Sitting bath seat with full ergonomic back and seat
Comfortable bathtime with an infant bath support
Extra arm space for free movement
Baby bath chair is fully secured with 4 strong suction cups
Front opens to seat your little one easily
Cute racoon design for fun bathtime
Foldable for quick and easy storage