Description

Technical features
Seat : Polyester

Walker : PP

Dimensions (folded): 70 x 24 x 65 cm

Dimensions (open): 70 x 47 x 65 cm

Care: hand wash



Help baby take those first steps
As your little one grows, it's important for them to develop independence. The Babymoov 2-in-1 is the best baby walker from 6 months+, because it engages and entertains your baby with toys and music, whilst also securely supporting and soothing them to sleep.
The perfect baby walker with wheels to get them moving Learning to walk is an important step to help your little one develop independence. As they begin to roam, you need to know your baby or toddler is safe and secure. The baby walker toy features two steerable front wheels to steady your baby's movement. Best baby walker from 6 months+ The baby walker toy is fully adaptable to your little one's growth. From the age of 6 months, the baby walking chair is perfect for them to develop their walking skills. Then, when your baby is ready to walk without assistance, it converts into a baby push toy that they'll love using up to the age of two.
Engage and entertain your little one with this baby activity walker If you're looking for toys to help your baby walk (with UK delivery), you'll love the Babymoov 2-in-1 Baby Walker Toy. This baby activity walker features an activity tray with three toys and a musical box with three melodies.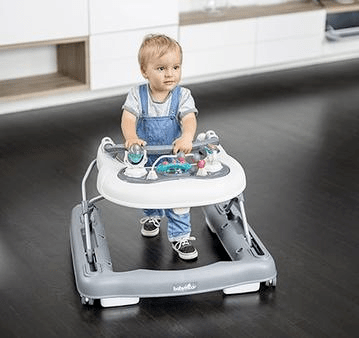 Why you'll love it
2-in-1 baby stand up walker – doubles up as a baby walker with wheels (up to 12 kg) and a baby push toy (up to 24 months)
Comfortable, quilted seat
Height adjustable to suit your baby's growth
Ultra-compact for easy storage and transportation
Height adjustable to 3 positions
2 guiding wheels for stability
Removable, washable cover
Baby activity walker with early-learning tray
Features a music box with 3 melodies
Removable and washable cover