Description

Technical features

Seat made of Polyester
Walker made of PP
Dimensions (folded): 70 x 24 x 65 cm
Dimensions (open): 70 x 47 x 65 cm
Care :

Seat is hand-washable


5-in-1 that adapts with your little one
As your baby learns to explore and develop independence, the Babymoov 5-in-1 Progressive Baby Walker and Push Toy grows with them, keeping them entertained as an activity walker, baby push toy, baby swing, 360-degree seat, and playpen. If you're looking for toys to help your baby walk in the UK, then the Babymoov Walker 5-in-1 is the perfect choice. The best baby walker from 6 months to 24 months, this baby walker toy provides all the entertainment and stimulation your baby needs as they grow.
Baby stand up walker with wheels The Babymoov 5-in-1 baby push walker features four wheels, including two steerable wheels, so your baby can learn to explore and be independent. As they move with the baby stand up walker, you need to know your baby is safe. Each of the four wheels are fitted with breaks, so your little one can walk around safely with this baby walker with wheels.
Baby activity walker toy As well as being a baby walker toy and a push toy, this Babymoov Walker 5-in-1 also functions as a baby activity walker. There are three electronic toys, including sounds and lights, positioned around the seat to provide entertainment and stimulation for your baby.
Swing mode – baby sit in walker This baby walker toy also features a swing mode to soothe and relax your baby with a natural swinging motion. Simply pull down the feet and swivel your little one through by 90-degrees.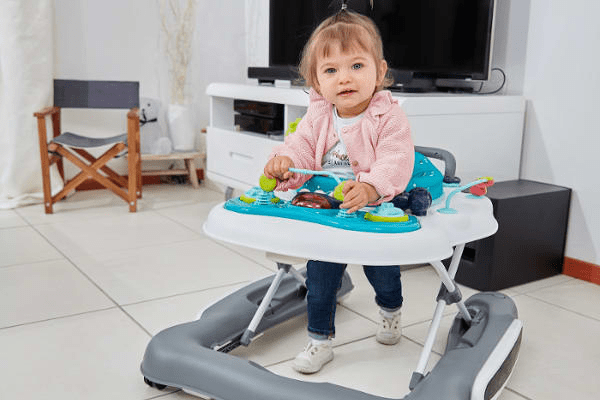 Why you'll love the Babymoov Walker 5-in-1
Encourages learning, independence and play As your baby grows, it's important for them to develop independence and learn roam and play. This baby activity walker features fun toys and a music box with three melodies to entertain and engage your baby.

Baby walking chair with 360-degree seat This baby walking chair rotates by 360-degrees, so you can face your little one wherever you are in the room. It also gives quick and easy access to the activity console, so your baby can enjoy the fun toys positioned around the seat.

Best baby walker from 6 months to 2 years Babies grow up so fast. Whilst it's wonderful to watch them develop, it can also mean the added costs of buying new items to fit them as they grow. Not with Babymoov's progressive baby walker toy. From
the ages of 6 months upwards, your baby will love using the baby sit in walker. As they develop, the baby walker toy coverts into a baby push toy, so your little one can continue to enjoy it to the age of two years. The Babymoov Walker 5-in-1 can also be adjusted by three height levels as your baby grows.
Comfortable baby walker toy Whilst your baby plays, they need to be comfortable. The Babymoov Walker 5-in-1 features a soft cushioned seat to help relax and soothe them as they learn new skills and enjoy the toys on the activity walker.

Compact activity walker for easy storage At Babymoov, we understand the importance of storage space for parents. That's why the Babymoov Walker 5-in-1 folds down to a very compact size, so you can easily store it away and avoid cluttering your home.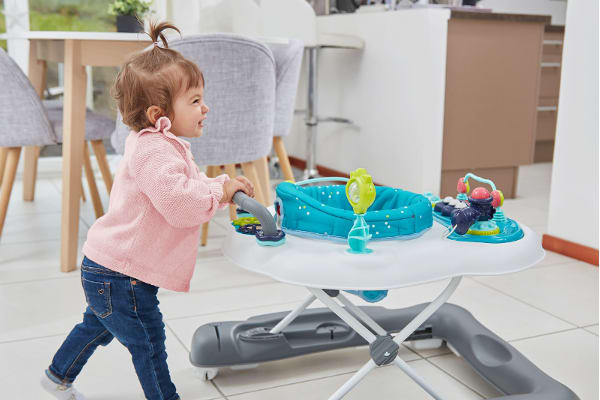 I Walker is quite solid and sturdy which is good !
Very difficult to raise the seat any higher than the top level which is poor !
Great for the kids
Needed a walker for my 11 months old which has some stuff for her to play. This is exactly what I was looking for. The price is a bit high but I didn't mind paying. Overall happy customer.
Brought this for grandson absolutely loves , along with his parents
Interactive sturdy worthy of price
Really good
Great product, very secure seating, it can be used from very young age. Great Walker, the only thing is that is very difficult for baby to go side to side or turn around as the front wheels are fixed straight.