Description

Technical features

Dimensions (open) : 98 x 90 x 85 cm

Dimensions (folded) : 60 cm
Weight : 0,77 kg.
Composition : 100% Polyester
Hand wash with a wet tissue

Video
The highest protection for your baby from harsh UV rays, wind and sand
When the warm weather comes around, it's the perfect time to create memories in the sunshine. But first, you need to be sure your little one is safe. This baby sun tent will ensure your baby is protected from the sun's harmful rays, along with wind and sand. Worried about mosquito bites? The baby UV tent has a large central zipped opening made from fine mesh mosquito net for protection against insects.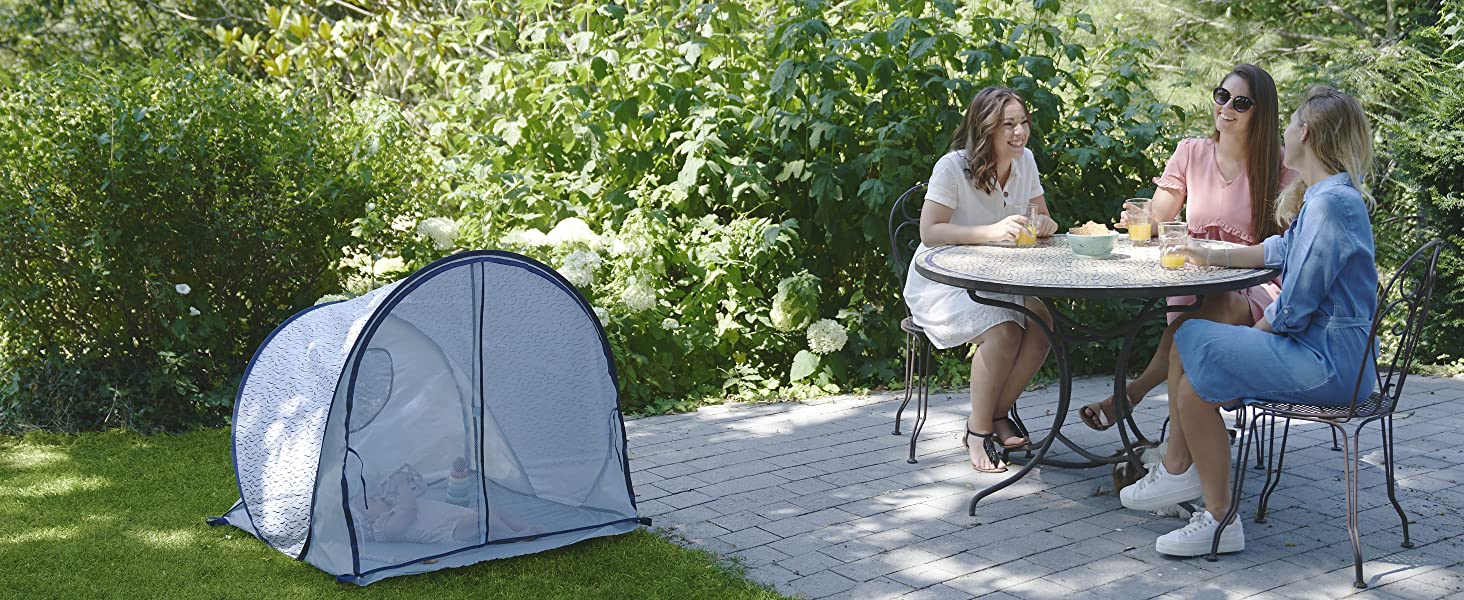 Enjoy the sun with this baby sun tent for UV protection
The Babymoov baby UV tent is very** easy for parents to set up** thanks to its pop up system. This pop up sun shade also includes tent pegs to secure the tent in the ground.
With more sun comes more heat. Thankfully, the baby tent also features two ventilation windows with flaps at the back for increased air flow on hot days. The rain doesn't have to spoil your fun either, because the fabric and ground surface of this baby sun shade tent is also water-repellent.
Whether you're looking for a pop up baby beach tent or a baby garden sun shade, you'll find this baby tent is lightweight (<1kg) for easy travel – and folds up easily into a compact carry bag (included). With sun protection of UPF 50+, it blocks up to 99% of harmful rays (UVA and UVB), so wherever you go, you know your baby is safe to enjoy the warm weather.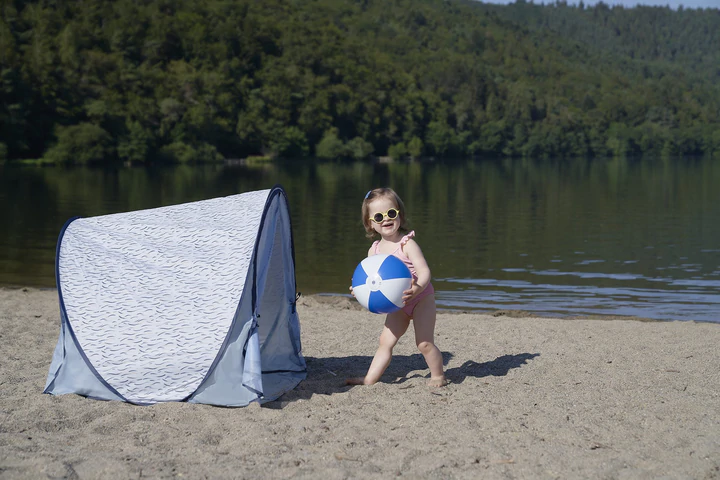 Why you will love the Anti-UV UPF 50+ Protection Tent
If you're searching for baby sun tents with UV protection, you'll love the Babymoov anti UV baby tent. Here are some of the key features that parents enjoy:
High anti UV tent for babies (UPF 50+)
Fine mesh mosquito net with Velcro fastening
Pop up baby tent for easy folding and unfolding
Mesh windows to keep your baby cool
Water-repellent fabric and floor surface for rainy days
Light (<1kg) for quick and easy travel
Stylish blue waves design
4 pegs supplied
Storage bag with wide shoulder strap included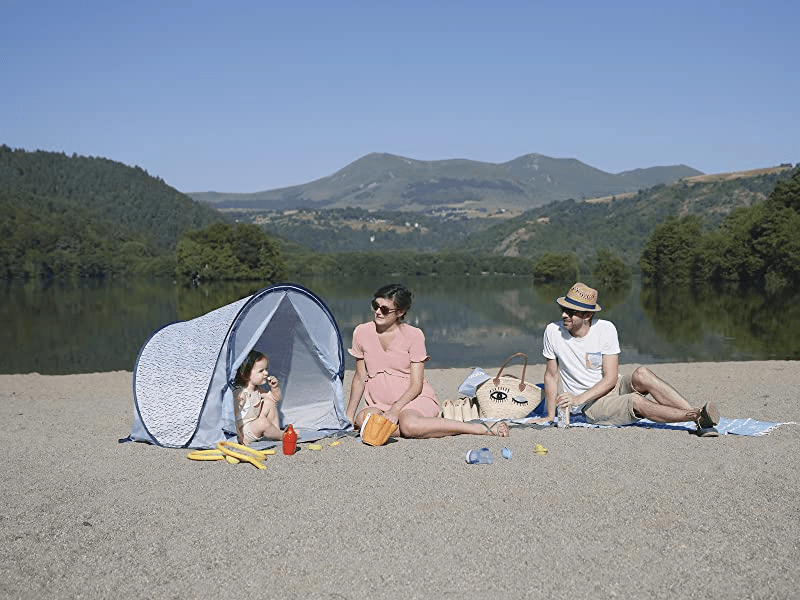 Great Shading
This little tent works so well. We had it sitting half in the sun, half in the shade where we had placed it and you couldn't even tell it was in the sun at all on the inside of the tent. The inside looked completely shady. My 7mo old baby enjoyed crawling in and out of it playing with toys. It pops open super easy to set up, and comes with stakes to hold it down if you're in the grass or sand. It's a little difficult to fold, definitely take another reviewer's advice and look up the you tube video on folding it back up! The instructions that come with it aren't that clear but the lady on the video does a great job of explaining. I have had to watch it both times I've folded it so far, one day I'll get it, but like I said it's a little complicated to fold.Overall we really like this purchase, works great, keeps baby shaded. I think it was a little warm inside the tent however, so we had a little fan pointed inside to create better air flow.
Good product. Confusing to fold.
Nice tent. My 6 month old loves playing in it. Great to not need to worry about sun exposure on his skin.
Great little tent
This is a great little tent for the back year or beach, to keep the sun and bugs off the baby. Just wish the front bottom closed
Very useful. Built well. Nice beach tent. Would buy again.
This was a great infant/toddler pop up tent for the beach. Big enough for two.