Description

Technical features

Composition of the Foodii™ Pouches: LDPE, HDPE, PET
Composition of the Foodii™ Filler: LDPE
Composition of the Squeeze™ Spoon: Silicone + Polypropylene (cap)
Composition of the Screw-On Snack Spout™: Silicone + Polypropylene (cap)
Video
Step 1: Easily fill the Foodii™ pouches
Using the snack filler provided, transfer food into the Foodii™ reusable pouches easily. Designed to make filling easy, there's no need to use a funnel. The two Foodii™ products fit perfectly inside each other.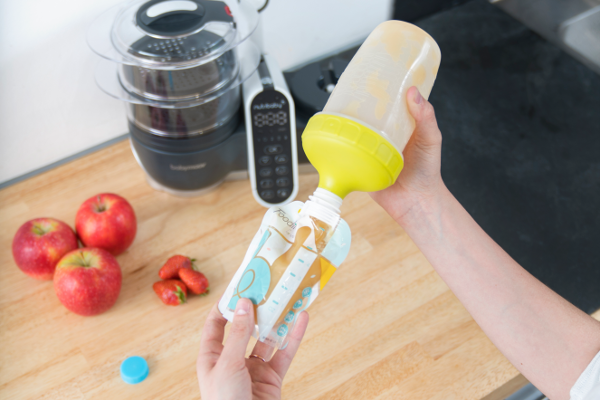 Step 2: Storing your home-made food is easy
Store your Foodii™ pouches in the fridge or freezer. Included leak-proof caps guarantee no spillages in transport or when stored. Foodii pouches also have a handy writable surface so that you can organise by recipe, day and date.
Step 3: Easy Feeding
For use from weaning age (6 months) use the Squeeze™ silicone spoon (for young babies) which fixes straight onto the pouch. Its ergonomic shape and soft silicone material are perfectly suited to little gums early on. Whether you're out and about, visiting friends or even at the childminder's, Foodii makes it easy to feed your baby with the very best of healthy homemade food.
As baby grows, replace the spoon with the screw-on Snack Spout™ (for toddlers). Your child can feed themselves independently. The pouches are easy for little hands to grip.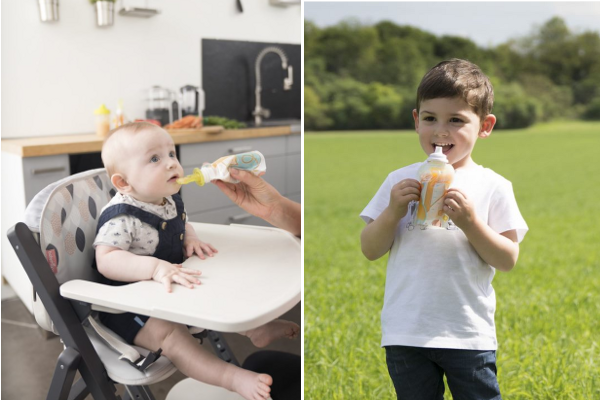 Step 4: Wash pouches and reuse them
Foodii™ pouches are reusable but do wash them by hand only using a bottle brush! The filler and accessories can be washed in the upper basket of the dishwasher
All Foodii™ products are safe and guaranteed BPA-free, PVC-free, latex-free and phthalate-free.