Description

Technical features

Use from birth: 0-9kg
Newborn insert: 50% cotton, 50% polyester
Pillow edging: 100% polyester
Cover: 100% polyester
Care : newborn insert and cover are machine washable at 30°c


Dimensions when folded: 52 x 46x 57cm




Interaction height: 75 x 77.5 x 57cm

Relaxation height : 54.5 x 96 x 57 cm
Video
Height adjustable baby bouncer with ergonomic height and seat adjustment for everyday interaction!
No complicated adjustments, simply press the central button once to adjust the seat through 5 positions: 3 tilting positions for the bouncer backrest and 2 for the seat.
For use with babies straight from birth, the newborn insert physically supports, comforts and reassures baby.
Both the seat and backrest of the Swoon Up bouncer can be easily and separately adjusted through 2 recliner positions (seat) and 3 recliner positions (backrest).. This makes it easy for your little one to interact with their surroundings, family members or perfect for keepin baby out of reach of pets if you need to. The unique 360° rotating seat means you can position baby to face anywhere in the room without having to physically pick up the height bouncer. To entertain your little one during the first few months, the Swoon Up Graphik bouncer is fitted with a play arch featuring 3 sensory toys. This is adjustable through 3 positions and detachable.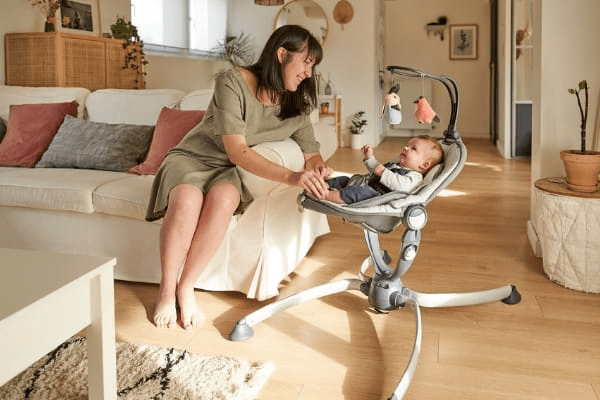 Put the Baby at the heart of daily family interaction!
Babies grow up quickly, so it's important – for both them and you – that you can spend time together as a family.
The Swoon Up baby bouncer chair is adjustable to two height positions to suit your baby's needs: • High position (75cm): This baby bouncer seat position is perfect for connecting with family. • Low position (55cm): This position is perfect for your baby to relax and rest like a classic bouncer.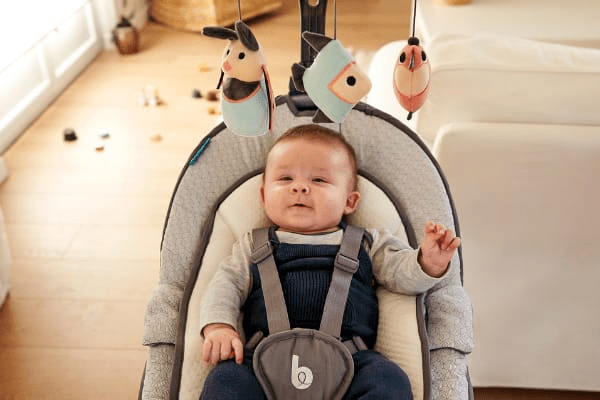 Adjusting and reclining in the baby bouncer chair
The Swoon Up Graphik baby rocking seat reclines in multiple ways, including two positions for the seat and three positions for the headrest. This makes the baby bouncer seat a gentle and relaxing space for your little one to settle. As well as being soft and comfortable, it's also completely adjustable for your baby's needs. The baby bouncer and rocker features a 360° rotating baby bouncer seat, so you can keep an eye on your baby wherever you are in the room.