Description

Technical features

Composition : 100% Polyester
Care : cover and reducer are machine washable at 30°c


Power : Plugged in (adaptater included) or with 4 LR14 batteries (non included)




Seat dimensions : l76 x L49 x H78 cm

Base dimensions : L75 x P 77 cm
Video

Automatic baby swing
Your baby can sit comfortably and securely in the automatic baby swing thanks to its adjustable 5-point safety harness. Pre-programmed swing cycles of 10, 20 and 30 minutes can be selected and if you select the motion detector too. The same cycle will restart if the swing detects any movement. This feature is perfect for babies who struggle to stay settled for any length of time.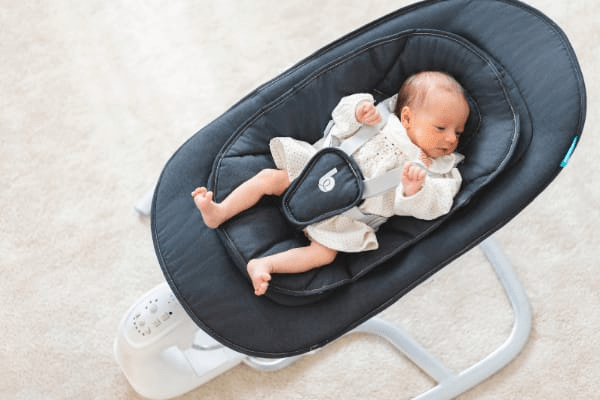 Settling baby in a motion chair
Not only is Swoon Touch brilliant for settling baby, the adjustability and interactive height encourages early family interaction and play next to the sofa, dinner table or wherever else you place your electric baby rocker. The adjustable sensory toy bar provides early stimulation. You can even engage and soothe your baby with 8 different lullabies!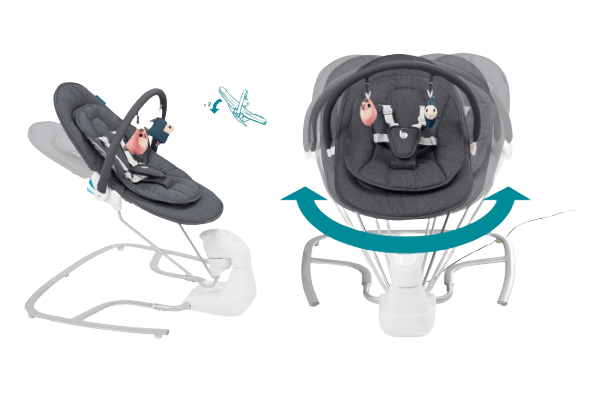 Baby swing with remote
Swoon Touch swing includes a remote control, so it's easier than ever to adjust the settings and ensure your baby is comfortable! Alter the rocking type, speed, timer, select motion detection, sound and volume from a distance. Incredibly user-friendly and convenient, this ability takes away the need to go back to the swing and bend over to adjust the settings. Swoon Touch swing is very practical thanks to its easily folding stand – easy to dismantle and move around or put away if not in use. Mains power supply adapter is included.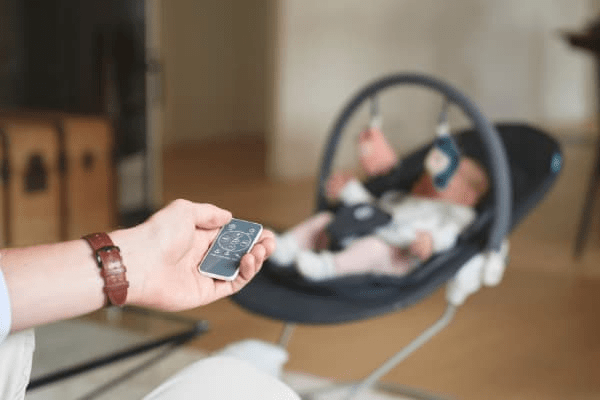 Why you will love Swoon Touch
REMOTE CONTROL SELECTION: Select and adjust all Swoon Touch electric baby rocker features easily from a distance using the included remote control, from the rocking speed, motion detector and timer to your lullaby and volume.
ERGONOMIC NEWBORN INSERT: The automatic baby swing features a newborn insert designed to reassure and settle babies from birth by mimicking the cocoon effect in the womb while providing ergonomic anatomical support for greater comfort.
NATURAL ROCKING: Designed to mimic the same soothing motion your baby would experience when being rocked in your arms, Swoon Touch has 5 rocking speeds to choose from with 3 duration cycles to choose from – either 10, 20 or 30 minutes!
MOTION DETECTOR: If baby is easily startled and difficult to keep settled, this function will automatically detect baby's movement and re-trigger your chosen swing cycle.
COMFORTABLE & SAFE: With 2 reclining positions, you can adjust your baby's position (asleep or awake). Most importantly, your baby is safe and secure at all times with the 5-point harness.
ENCOURAGES EARLY STIMULATION + PLAY: Featuring a play arch with 2 sensory early learning toys (bell and crinkly paper), the Swoon Touch electric baby swing also has 8 lullabies to choose from with adjustable volume.
PRACTICAL + COMPACT: The Swoon Touch swing is easy to dismantle and move around thanks to its foldable stand. The seat cover and newborn insert is removable and can be machine washed at 30°C. The mains power supply adapter is also included.