Description

Technical features

Dimensions:
Chair:  60 x 79 x 108 cm (L x D x H)
Footprint: 60 x 79 cm (L x D)

Composition:

Chair: Metal / PP - Seat cover: Polyester
Newborn insert: Cotton / Polyester & Elastane
Newborn insert foam: Polyurethane
Care:
Tray: dishwasher-proof
Seat cover: machine washable at 30°
Newborn insert (excluding foam): machine washable at 30°
Video
Designed to be durable, easy to adjust and offering superior comfort for your baby from birth
Slick revolutionises comfort and mealtimes in one quality piece of furniture. Slick highchair grows with your child thanks to its adjustable chair height, seat recline, and an extendable foot rest to ensure maximum comfort at every stage. Slick was also designed to be easy to use and to move wherever baby may eat, nap or interact. the detachable tray can be opened easily one-handed while you pop baby into the highchair safely. When you want to use as a recliner, simply detach the tray completely from both sides.
The 5-point harness offers complete safety for baby at all times when in the highchair. After mealtimes pop the detachable meal tray in the dishwasher for easy fuss-free cleaning! Made from stain resistant and waterproof Nanotex™ fabric for easy cleaning, both the seat and the newborn insert have a removable cover which is machine washable at 30°.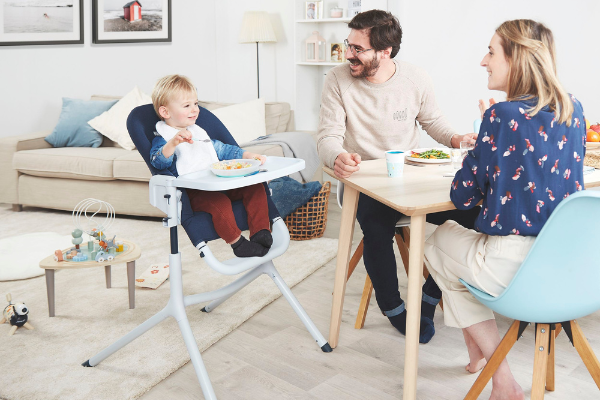 What is Nanotex™
Nanotex™ is a type of textile finishing that uses nanotechnology, the manipulation of matter on an atomic and molecular scale, to alter the properties of a textile to increase resistance to spills and stains.
This Nanotex innovation fights stains in two ways at once. Each fiber has been transformed through nanotechnology, and the result is a fabric that: Repels spills
Helps stains wash out easily
Provides long lasting protection
Extends the life of the fabric
Retains fabric's natural softness
Allows fabric to breathe naturally
Nanotex enabls SLICK to feature the best of both worlds: a soft and comfortable fabric for baby's comfort, while protected from food stains and spills! SLICK also features wheels on the 2 back legs of the chair for easy manouevering when holding baby.