Description

Technical features

Changing mat and transport bag : 100% polyester, insight 100% EVA
Mat : outside 90% Polyester, 10%coton
Inside 100% PS microbeads - Mattress cover : 100% Nylon
Dimensions : 30 x 93 x 18 cm
Weight : 0,57 kg
Care: hand-wash for the mattress, microbeads mattress and the transport bag 
Care: machine washable at 30°C for the mattress cover
The travel-friendly premium changing mat solution for comfortable easy nappy changing
At a time when hygiene is everything for a parent and their baby, where ever they are, the NomadCare changing mat ticks all the boxes for hygiene, comfort, convenience and practicality on-the-go.
The two-step changing mat provides superior comfort for babies from birth with the same practical wipeable and waterproof features as most standard changing mats. The extra thick changing mattress has a micro-bead filling providing that all important soft cushioning on harder or uneven surfaces like the car. The external mesh pocket conveniently keeps all changing essentials together in one 'organiser' with easy access when changing baby.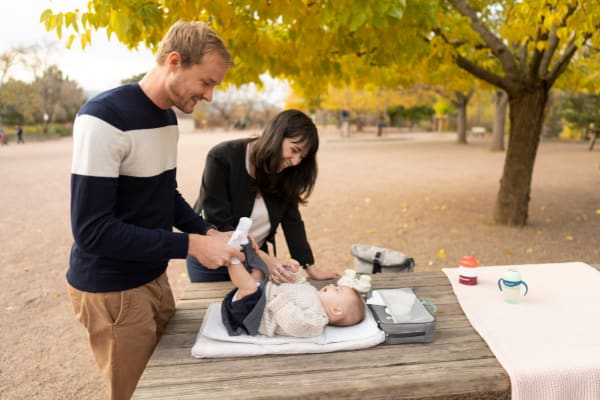 Why you will love NomadCare
Premium comfort travel-friendly changing mat including 2 x changing mat + pocket for changing essentials

Two-stage changing mat: 1 x waterproof thick comfort mattress and 1 x wipeable waterproof mat cover which unfolds on the top of the mattress

Compact organiser to pop into a changing bag, backpack, large handbag etc.

Beautifully designed, premium lasting fabrics and neutral colourway

Thick mattress cover removable and washable at 30°C

NomadCare changing mat contains microbeads, making it comfortable on most surfaces. It is designed to cushion any lumps or bumps that would be uncomfortable for baby, for use in the car or out and about.

NomadCare mat is waterproof to liquids and damp surfacces so that your little one stay dry.