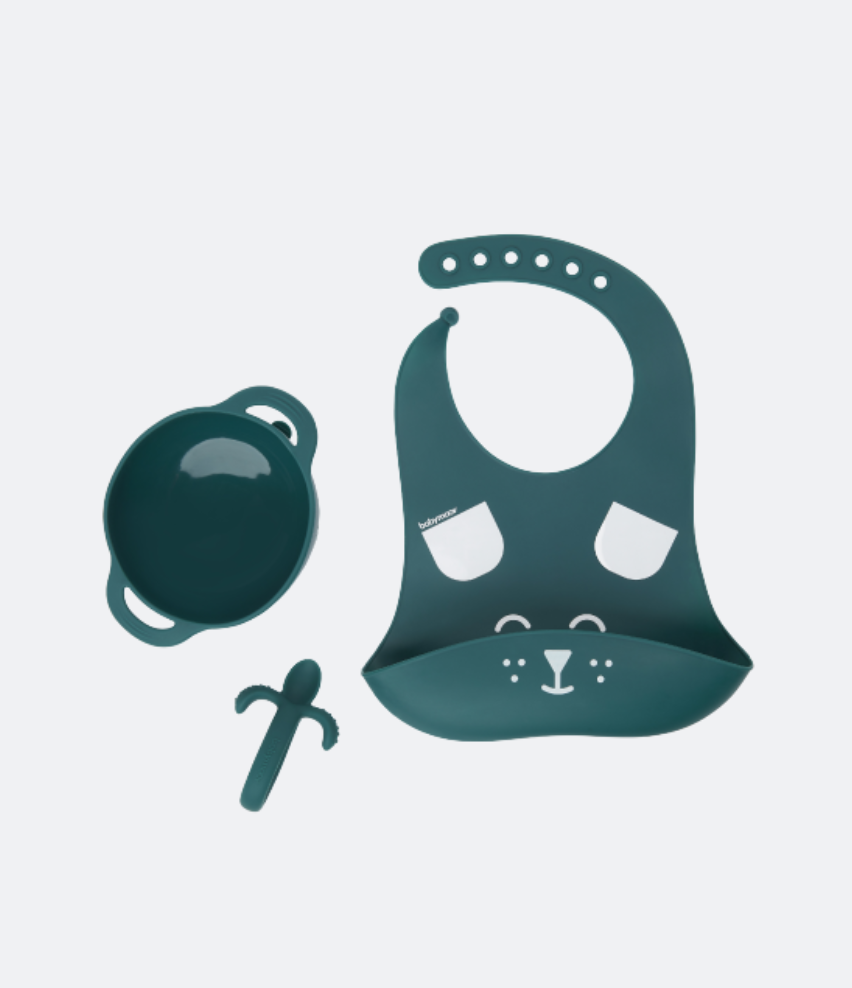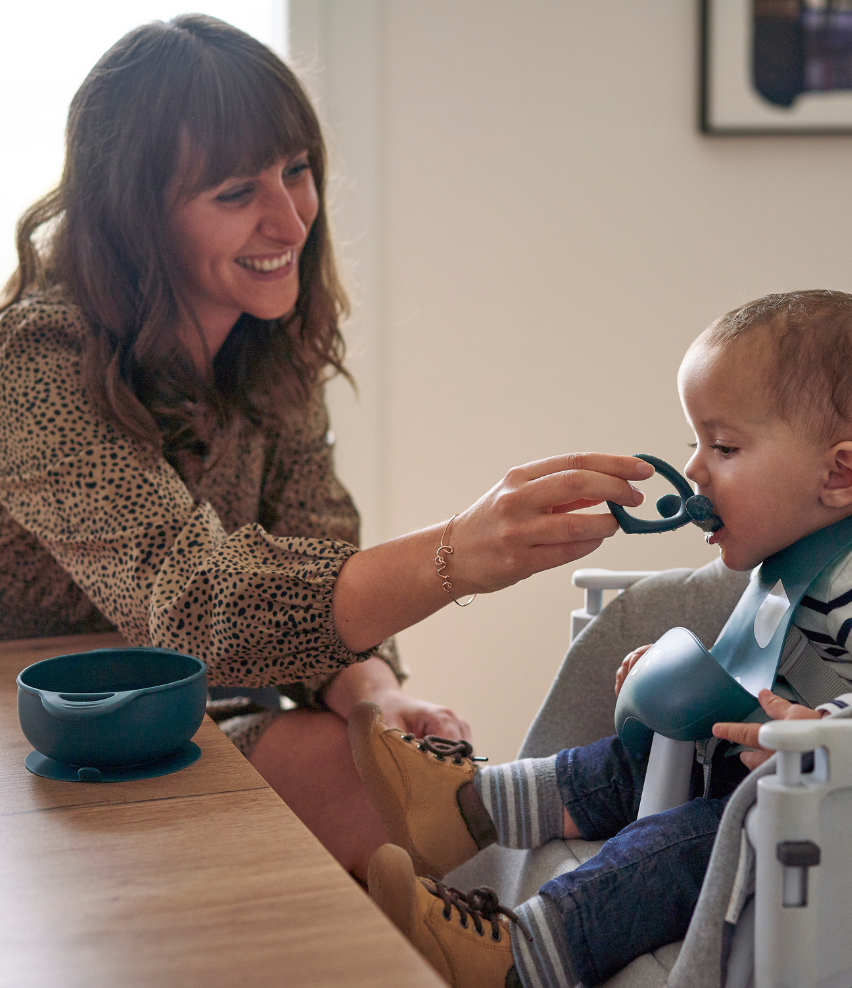 Sold outSave
First ISY 3-Piece Silicone Bowl, Spoon & Bib Baby Weaning Set
Ref: A005400
---
100% silicone first-stage adapted bowl, spoon and bib baby weaning set for 6-12 months
Designed to support the development of fine motor skills and mealtime independence.
100% food-grade silicone weaning set
Co-created with an occupational therapist
Age adapted first stage spoon/teether for 6 months+
Dishwasher-friendly
Blue set or dog character print
20% OFF Green Friday Deals 💚 code GREEN20
20% off Pre Black Friday Eco Selection. GUARANTEED not to beaten on Black Friday!
Delivery time 2-3 working days ♡ Free shipping when you spend £40. Returns possible within 14 days of purchase
Description
Age-adapted ergonomic 3-piece weaning set
• 1 Ergonomic easy-grip weaning spoon with built-in teether – The First ISY weaning set features a unique small ergonomic weaning spoon for little fingers and small mouths. The spoon also features a loop easy-grip handle which doubles up as a safe teething ring for baby. Unique curved arms at the base of the spoon were added to stop baby's hand from slipping over the spoon end to ensure a better and easier grip of the spoon
• 1 silicone baby bowl with strong suction pad to secure to your table or highchair – No need to worry about spillages or food being knocked over thanks to the strong suction silicone bowl in this silicone weaning set. The bowl is secured to the table to eliminate mess and aid your baby to explore first purees and softened fruit and veg with the use of the weaning spoon. A soft, flexible and smooth silicone surface makes the bowl and set very easy to clean by hand or in the dishwasher.
• 1 silicone pocket bib with adjustable neck fastening – Babymoov's First ISY weaning set for 6-12 months includes a soft silicone pocket bib for easy cleaning up of baby and the floor after mealtime. The pocket style 'crumb catcher' bib will also minimise waste by catching any food that baby has dropped. Simply wipe clean or empty out and pop in the dishwasher. The Babymoov pocket bib features a cute fox or dog character print.
Eat easy with the new Eats ISY mealtime range
• To support fine motor skills at every stage from 6 months – Accepting new foods, tastes and textures is an important phase in your child's development from the age of 4 months. As parents, introducing your baby to a diversity of flavours and teaching them how to feed safely and independently is something we all want to encourage at the weaning stage. And because each stage is important, using the best mealtime accessories adapted to their age and capability makes these new discoveries that much easier and enjoyable for them.
• Co-created specifically with child-care professionals – As experts in weaning and feeding for baby for over 20 years, Babymoov has worked with childcare professionals (occupational therapist, paediatricians and nutritionists) to develop the Eats ISY range – age-adapted mealtime accessories ergonomically designed to meet your baby's needs. 100% silicone and age specific, Eats ISY will help your child through all the stages of weaning and becoming independent.
100% silicone, guaranteed free from BPA and phthalates
all the parts in the FIRST'ISY mealtime kit are dishwasher-proof or can be hand-washed
- bowl: 16 cm x 11.7 cm x 5.5 cm - bib: 21 x 15 cm (collar 10 cm) - spoon: 9 cm long x 4.8 high (tip: 2.1 x 2.5 cm)
This product is rated 4.9 of 5.0 stars.
It has received 21 reviews.
Cute gift set
This is a lovely gift set for marking a baby's first six months. The colour is a gorgeous teal green and the whole set matches. The bin has a good deep curve to catch any bits and the bowl and spoon are perfect for the baby to grab themselves and learn to eat!
Cute, sturdy and really easy to keep clean
This set is a little bit on the expensive side, but it is so well made and designed that it really does feel that the price is justified.As well as looking cute and feeling really sturdy, the set is designed to be smooth and easy to clean, with no awkward nooks and crannies to harbour germs/mould.You get a bowl with a built-in suction cup (which is not the strongest, but is adequate for the purpose), a cute little spoon with built-in teething strips and a matching bib with bu8ilt-in food-catcher pouch - everything you need for a newly-weaning baby!I would definitely recommend this brand to new parents and will be buying their products again in future.
Environmentally friendly for your Bears porridge!
This is a beautiful silicon bowl set with a good sized, adjustable bib. The ethos of the manufacturer is clear from the packaging it arrives in, being cardboard and eco friendly.The quality is fantastic and the functionality is superb - the bowl base gives great suction to suitable surfaces and it is BPA free. The colour (Sand fox) is pleasing and neutral.It's an absolute bonus that this bowl can go in the dishwasher. Highly recommend this product!
What's not to love??
Love love love this set! Perfect gift for a friend or a little treat for your own little one. It's well designed (the spoon doubles as a teething ring, for example), well made and dish-washable. The flexible material makes everything easily packable, too.I think it's pretty gender neutral, a simple Scandi style design and plastic free packaging. What's not to love??!
Brilliant.
A brilliant way to keep baby outfits clean and tidy during feeding time, all the items have excellent build quality and are very easy to clean I highly recommend them.Thank you for the review sample.