Description

Technical features

Composition: - Cover: 100% polyester - Filling: polystyrene microbeads
Weight: 0.9 kg
Dimensions: L30 x H78 x D15 cm
Care: - Cover is machine washable at 30°C
Inner pillow can be occasionally machine-washed at 30°C along with the cover, in a laundry pouch
Not suitable for tumble-drying
Lightweight, ergonomic u-shape pregnancy pillow with ultra-soft cover and micro-bead filling which adapts to your body shape and baby too.
The Badabulle maternity pillow has been designed to fit and adapt to every growing bump as well as offer super soft comfort and support to mum and baby during feeding. Thanks to its ergonomic u-shape, this pillow can be used for enhanced comfort in a number of positions - particularly for comfortable sleeping in bed during pregnancy.
Filled with micro-beads, this pillow shapes around yours similar to the way memory foam does relieving pressure and offering real support to the back, legs, and tummy, at all stages of pregnancy. The softness and adaptability of this cushion can also really help parents to adopt the correct/perfect feeding position for you, with baby.
The Badabulle maternity pillow has a removable machine-washable cover. This pillow will quickly become an essential item for you and your baby!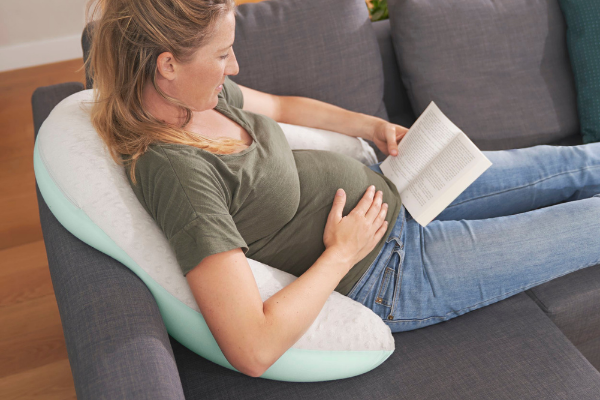 Why you will love the Badabulle Maternity Pillow
COMFORTABLE AND QUIET: Filled with fine microbeads, the Badabulle maternity pillow is comfortable and quiet. It adapts to whatever position is most comfortable for you during pregnancy and for you and baby during feeding.
IDEAL FOR PREGNANCY: the Badabulle maternity pillow supports your back, legs and tummy throughout your pregnancy.
ADAPTABLE: this maternity pillow can also be used to support your baby at the right height during breastfeeding or bottle-feeding. Ideal for relieving your arms and back!
SUPER SOFT: the Badabulle nursing pillow has one velour side for even more softness.
PRACTICAL: this maternity pillow has a removable cover and can be machine-washed at 30°C.
QUALITY: the pillow is entirely made from Oeko-Tex(R) certified materials and is made in Europe.