Description

Technical features

50+UPF sun protection

 

Large size when unfolded (L.125 x W.100 x H.85 cm) and space-saving when folded away (42 cm in diameter)

 

Quick pop-up system: easy to unfold and fold away

 

4tentpegs for fixing into the ground/sand securely

 

Central opening and mesh on the sides for excellent ventilation
The Badabulle anti-UV tent
Before the age of one, babies do not produce enough melanin to protect them from harsh UV rays. It is essential to protect your baby from birth with high UPF UV protection when out in the sun!
The Badabulle anti-UV tent is the ultimate summer essential for the beach, garden or park, to be used throughout baby's early years! For families with more than one baby/toddler the anti-UV tent has plenty of space for multiple siblings and toys.
In the garden or the park, on the beach or on holiday - for playing or napping, the Badabulle anti-UV tent protects your baby from harsh UV rays with up to 50+ UPF protection including protection from wind and sand! The Badabulle anti-UV tent opens up and folds down in seconds thanks to its easy pop-up system. Once opened, fix the tent securely into the ground using the four pegs provided to keep it firmly in place. Fine UV mesh panels ensure the tent is well ventilated in hot temperatures.
Lighweight (<1 kg) for taking to the beach and folds up into a compact carry bag which is included.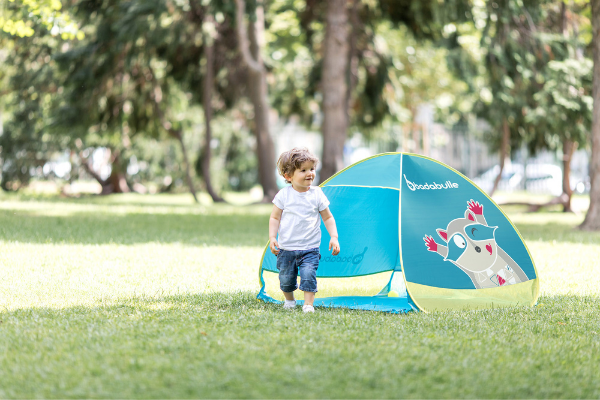 Great for playing outdoors
This is excellent for creating a play area in the garden and keeping kids in the shade. It takes a bit of practice to get it folded up again but once you have done it a couple of times it's a doddle and folds neatly into its little bag.
Baby tent
Great.roomy tent so easy tonuse .A must buy
Wonderful tent
Perfect size and easy to fold! Loved using it during our beach holiday.
Fabulous buy for twins to keep them out the sun!
Absolutely love this little tent! So easy to put up and once you get the hang of folding it.. it's easy to put away aswell. Perfect size for twins or multiple children 😊